Introduction
South America has one of the most versatile landscapes on planet earth. From jungles to the mountain to old heritage, south America has abundant travel spots. No tourist can remove the south American journey from their travelling list. The Latino continent is full of colours, vibrant houses, smoky volcanoes and most importantly house friendliest people. The kindness of the people and the hospitality is also one of the beauties of the South American vacation. In this article, 20 best south American vacations will be discussed.
Take a trip to Angel Falls, Venezuela
The angel falls is one of the breathtaking waterfalls in South America, it is also known as Kerepakupai. This means the great fall and is also called as Salto Angel. Canaima national park is the location of this beautiful site. It peaks at about 979 meters. It could also be noted as one of the might highest waterfall in the whole world. A direct flight to Canaima can be taken to enjoy this natural scene. The reason for the direct flight is that there are merely no roads that connect to Canaima. But this experience will certainly blow your mind away.
Head to Bolivia, Salar de Uyuni
If you want to see the world's largest salt flat, then Salar de Uyuni is the place to go. It can be seen at over 10,000 square kilometres. The scenery is amazing and it seems like you have landed on some other planet. Wild fauna also grows abundantly in this particular region. Pink flamingos are also a part of this region and they grow all over the lakes. This can be one of the most enthralling journeys that you can have in South America. Bolivia is filled with nature, erupting volcanoes, coloured lagoons. One can never be bored with the beauty of this country.
World-renowned Machu Picchu in Peru
Machu Pichu is called as the sacred city. This was built in around 15th century. Abandoned afterwards, but still, this place has extraordinary archaeological importance. It is renowned for its special stoned walls, and its enticing history and myths. Not only this place offers a lot of greenery and soothing history experience. Machu Picchu is also known as Inca site, it is often called as the lost city of Inca. But most of the historians contend this opinion about Machu Picchu.
The Portuguese speaking nation of Brazil, Rio de Janeiro
The South American country which speaks Portuguese, is filled with beaches, bars and diverse cultural experience. Rio de Janeiro also holds a big secret, it can offer you an African-European cultural experience like nowhere in South America. You can go for a boat ride or choose to roam around on an adventurous trip in jungles. When it comes to mountain peaks, Rio de Janeiro is an exceptional place to be. The football culture in Rio de Janeiro will also keep you busy if you are a football fan.
Try the best coffee in the world in Eje Cafetero, Colombia
Columbia does not only offer you a wide variety of nature but it also offers the best coffee in the world. If you are a coffee lover and want to see how the best coffee in the world is produced. Then you have to head towards to Eje Cafetero, Colombia. The country grows a variety of coffee types that can entice your coffee buds. The gateways to this place are Salento and Pijao. These towns will also offer beautiful and colonial feel to you.
Learn the language and traditions of Isla del Sol, Bolivia
This place is located on the incredible island of the sun, called Lago Titicaca. This is the aboriginal land of Quechua and Aymara people. A boat can be taken to this small island. You might feel that you are residing on a sacred island. The lake is surrounded by an ocean. It is recommended to get on the top of the hills and enjoy the camping experience. Sunrise and sunsets will also become you, companion when you will open your tent in the morning. And when you will be waiting for the sunset.
Experience the magnificent stratovolcanoes in Cotopaxi National Park, Ecuador
If you are visiting Ecuador, then conical-shaped stratovolcanoes can never be missed. For this, you have to go to 6000 meters at the top. And therefore, you have to continuously hike but this can be a unique experience in South America. This can be a challenge against the darkness. Just hire a good guide, if you are going to hike above.
Iguazu Falls will amaze you, Brazil and Argentina
Iguazu means big water, Iguazu is the term of Guarani language. This is an indigenous language spoken in parts of Brazil and Argentina. The Iguazu waterfalls can be seen from both Argentina and brazil. If you are going to visit from the Argentinian side, then you can also go through the Passo del Diablo. It is a trail that can take you over the highest fall in the park. Called as the Devils' throat.
The resounding architecture of Cartagena de Indias, Colombia
The colonial architecture of Colombia offers you an everlasting experience of mastery and elegance. You will find the best-preserved sites in this place. You can also find the Caribbean vides in this city. Colourful streets, good food will also add extra value to your pleasure.
Have an adventurous ride on Mount Roraima, Venezuela
Mount Roraima is known for its splendid beauty. It is also known as the table shaped mountain. It is located in the south of Venezuela. It is stretched over the triple border point of Venezuela, Brazil and Guyana. Go and take the five-day hike at the top of the mountain, and you will be amazed. You will also find various waterfalls and vertigo views that will startle your mind. Not only this but this is known as one of the most astonishing places in all of South America.
Soothe your inner soul in Torres del Paine, Chile
One of the most popular destinations in Chile is the Torres del Paine. During the high season, the park will be very crowded but it can offer enticing views to the tourist. Torres W trek can be taken and this can be completed in five days. This region also has trees that change their colours. Dramatic views of lakes and peaks will also astound your inner senses. Famous O circuit can also be taken but it will take 7 to 8 days.
Feel the Caribbean vibes in Tayrona Park, Colombia
Tairona park is the home for the indigenous people and they date back to the 15th century. Wild nature is one of the most striking things a human can see. Beaches are full of blue clear water and just similar to a Caribbean feel. Lush green mountain and good beaches are the main attraction of this place. But, various archaeological sites are also hidden as the gems of nature in this region. Cabo San Juan will also give you a soothing experience of beach vibes.
Hiking on the El chalten, Argentina
For hiking lovers, this is a paradise. The Argentinian Patagonia is a must-see place for the tourists. It should also be the starting point of your travel itinerary when you visit South America. Fitz Roy mount and Cerro Torre are the two trails that you cannot miss at any cost. Day tours are the most common to take if you want to explore the mornings in the day's light. Lakes and glaciers are also the highlight reel of this spectacular piece of nature. Then afterwards, go to the town and walk around to meet the locals.
Visit the Amazonas in Iquitos, Peru
Amazonas is a must-see when you visit South America. This journey will be the most adventurous journey of your life. Start from the Iquitos, and the city can be reached by plane or the boat. Just feel the local vibe and wander around the marketplace. This will teach you an extra lesson of history about these people. There you can also contact the tour guides who will take you to the forest. In the forest, embrace the wild fauna and flora. Go to the traditional village, navigate around rivers, and also walk in the rain forest. You will also come around a variety of animals like tarantulas, caimans, sloths, and various kind of birds.
Embrace the European atmosphere of Buenos Aires, Argentina
Buenos Aires provides a European feel to the tourist. It has countless museums, theatres and painting galleries. All of this, you can only find in European cities. The colourful streets of Buenos Aires will also entice your mind. Wander around Sant Telmo, Puerto Madero and in the city centre. The colourful neighbourhood of La Boca will also show you the diversity in Buenos Aires. Have some lessons in tango dances, you might need one.
Giant valleys of Chapada Dia mantina, Brazil
Chapada Dia maintains is a never-ending scope of nature. You can never haze away from the natural beauty of this place. Deep canyons covered with greenery and hundreds of waterfalls make this place very unique. Cachoeira da Fumaca is the highest among the all, as it is 353 meters high. There is also a path that can take you right at the top, and at that location, you can see the waterfall.
The deep blue waters of Cayo Sombrero, Venezuela
Yet again you will fall in love with the beauty that South America has to offer. Visit Venezuela for Cayo sombrero. These are one of the most appealing beaches in South America. This place has remarkable beaches that you might have never seen anywhere else. No roads or hotels can be found. The sand is pure white, and the water is turquoise. Just get into the water and find yourself the tropical fish. Eat it near the water and have some joy that will last forever. You have to travel to Chichiriviche first to get to this place. Find a boat, and it will leave you exactly in the right place.
Magnificent glacier of Perito Moreno, Argentina
Include this glacier to your itinerary, whenever you visit Argentina. Perito Moreno will tell you strange stories of its existence on mother earth. It will be your friend but you have to be careful around the region. The mass of ice is about 5 kilometres, and it is 70 meters above sea level. When you will see the ice blocks falling, this will be the best moment of your life.
It can be an unforgettable scene of your life.
Learn the history of the slave port in Salvador de Bahia, Brazil
This the slave port of Portuguese in brazil. That is the main reason that most of the people here are of African origin. Here, you will find the traditions and culture that mainly resembles most of Africa. The charming neighbourhood is colourful and a common tourism point. The African culture means that you will find great food and you will these moments later.
Feel the heat in the desert of Atacama, Chile
This place is called as the driest desert on earth. Hence, it becomes a must on the travel itinerary. You can also feel that you have flown towards the moon, and remember never miss the sunset. Piedra del Coyote is another place that can entice you, it is known as a big stone on which you can stand and take some incredible pictures.
Conclusion
South America is full of history, culture and nature's maestros. You can never blink an eye while travelling to South America. All of these 20 destination have something unique about them that you cannot miss. You can enjoy the beaches, learn the history, embrace the culture and come back with an everlasting experience.
Ishaq Dar; An Exemplary fool!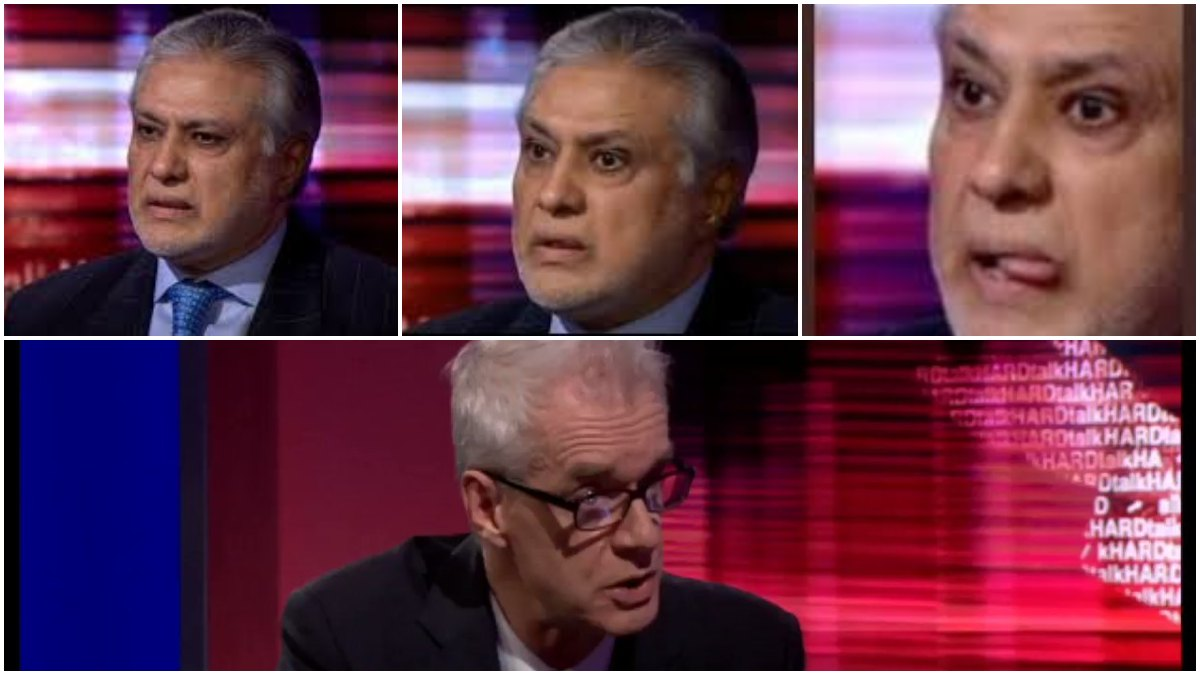 Stephen Sackur, age 56 is widely known for his controversial BBC Hardtalks with guests from a wide variety of professions. Interviewed the ex-finance minister of Pakistan, Ishaq dar. This was the kind of an interview, where ishaq dar was supposed to cement his position about his perspective of the current government of Pakistan. But the interview went completely other way, since ishaq dar from the start of the interview, was called as an escapee from Pakistan by the interviewer, by Stephen sacker himself.
When asked that you are alleged to have more than 600 million dollars, these are assets more than your acquired resources, and that how many properties that you own in Pakistan?
Ishaq dar replied with hesitation at first, that its all declared in my tax returns, Stephen Sackur again asked how many properties did you own in Pakistan… Ishaq dar replied like a seasoned liar, "One property"!
"One property", even a corrupt cleric owns more than one property in Pakistan, and Ishaq dar bluntly replied that i only own one property in Pakistan.
Stephen Sackur asked again, Not even in Dubai, Ishaq dar replied, " My sons have just one villa and is owned by them since they are in business for last 17 years".
Stephen Sackur said again, that when I asked you, "how many properties you have in total", then you replied, "Only one"..so it's not strictly true. Now, change of stance by Seasoned fool, "Agains insisting that it's true, and that my children are adults, they can make as many properties as they want". So Stephen Sackur asked again, that you know that when NAB (National Accountability Bureau) was looking at your assets, it meant that they were looking at both you and your family's assets.
Stephen Sackur ask again, if all of this is very clear cut and if its true that you only own one property. And everything is just very crystal clear, then why do you not go back to Pakistan and make this case in the court of Law ( Where you were an ex-finance minister, where you looted all the money, made fool of the old and sick, took votes from innocent people who think you can change their lives)
Ishaq dar replies, " Well, the court of law, my lawyers were there ( thinking in the back of his mind, that I don't give a fuck about courts in Pakistan)… I am here for the medical treatment and I don't wanna go back since my ass already escaped to London.
Again Stephen Sackur asks, "you been here for 3 fuckin years, are you trying to make a fool out of me, shit face" Because i have seen fuck boys like you giving me a prep talk, but i know a fool when i see one, and you are the one".
Anyways lets move on seriously!
Stephen Sackur: Are you still really suffering from the disease?
Ishaq dar: Yes, Yes, I am ( i sometimes forget what i am suffering from, but yes i am suffering from schizophrenia too)
Stephen Sackur: Cant you possibly go back to Pakistan, we are already hosting a lot of fugitives like you here?
Ishaq dar: Well.. (hesitatingly) lets see…Now starts bashing Pakistan .. Where are the human rights.. and the current government is running a maligning campaign against former Prime minister, Nawaz Sharif
Hold on ! fuck face hold on …
Stephen Sackur: The truth is Nawaz Sharif is a convicted criminal..
Ishaq dar: its not proved ..its not proved! even in the two judgements gave by the court of Pakistan ( the court that i don't give a shit about, since i am escaping from it and sitting on my fat ass in London enjoying this beautiful life )
Stephen Sackur: Nawaz sharif (the leader of your party) was convicted by the court for ten years on the charges of corruption as his name appeared in the Panama Papers, ( then his sentence was reduced to 8 years) .. he was allowed to go to London on medical reasons like you were allowed, and then again you two fuck boys didn't went back to face the criminal prosecution and now you are sitting in front of me and telling me that you are not escaping justice ..
First of all Ishaq dar tell me, who the fuck do you think i am…
Stephen Sackur: You are trying to run a campaign against current Prime minister of Pakistan (Imran Khan), what credibility do you have?
ishaq dar: It was a stolen and rigged election ..
Stephen Sackur: But according to the EU monitoring report, the election results were satisfied and this means not rigged, so why the fuck would i listen to you …
ishaq dar: But it was rigged election
Stephen Sackur: how?
Ishaq dar: That's what they fucking told me .. what am I supposed to say on BBC ..
Stephen Sackur: So, the truth is that Imran khan has the democratic mandate and you are just a fuck boy! Because the EU chief of the commission said that the results of the elections are credible.
When Stephen Sackur asked that why did you put allegations on the army chief of your own country that he, himself influenced the election, Ishaq dar replied, " The bug sits at the top". "You don't know that Pakistan is a deep state", the term used by corrupt politicians when they are not in the government to indicate that army helped some party to win the elections.
But then again, Liar liar pants on fire ( you suck Ishaq dar, because you were in the government few years ago and sure you didn't say shit at that time.
Then after arguing on the same, notion he said, i am not pointing at the whole army, i am just pointing at some individuals. Ishaq dar meant to say, that current army journal is bad and he helped the current prime minister to get elected. But he is the same army journal who was appointed by Ishaq dar's government, so the fact that he helped the new Prime minster to get elected can never be true.
Again a tough question coming his way, Stephen Sackur asked that your leader, Nawaz Sharif made the govenrment with the military dictator General Zia, but suddenly he has decided that the Army is against him, because they are not working with him any more and he is not in the power…
Ishaq Dar: its an evolution process, this world came into being after the big bang!
Stephen Sackur: What the fuck is wrong with you Dar!
Ishaq Dar: I certainly disagree with you!
Stephen Sackur: I asked you a fucking question, you dick head!
Ishaq Dar: I…. I …. disbelief… i certainly don't … i disagree with you!
Stephen Sackur: Fuck u!
Ishaq Dar: What!
Anyways … lets
Ishaq Dar: Imran khan is bad guy, he was known as Taliban khan, he accused Pakistani intelligence services …
Stephen Sackur: It was regrettable that Ex-Prime-minister took the name of the current army chief in Pakistan, said by Bilawal Bhutto, and even the daughter of Nawaz sharif said that i am not anti-military.
Ishaq dar: Hey, can you ask me any easy fucking question, because these questions are fucking hard..and i don't know shit about them..
Stephen Sackur: Dummy! that's why its called Hard talk!
Stephen Sackur: Why are you creating instability in Pakistan when there is Pandemic in the whole wide world? What is the fucking, reason, are you fucking insane?
Ishaq dar: You have to be a neutral umpire here …
Stephen Sackur: We are not playing fucking cricket here, dick head…
Stephen Sackur: You can choose to go home, but what you are doing is ..that you are sitting in London, and trying to destabalise the situation in Pakistan… who the fuck does that to their own country … your people elected Imran Khan… so stay the fuck away from them.. because you ain't good to respond me now, how can you run the finances of a big country like Pakistan… Sure in hell, you cant run a small firm, you cheap stake..
Stephen Sackur: And i think Imran khan stand in a very tough stand against India and Modi.. and he cen never be a fascist…
Ishaq dar: ( smiling)
Stephen Sackur: What the fuck are you smiling about, i am serious!
Ishaq dar: Ok (serious)
Stephen Sackur: So, just tell me what kind of his policies personifies fascism, when he has opened the pilgrimage locations in Pakistan and invested upon them so that the Sikhs can come from India to Pakistan and they can visit their own religious sites … Tell me ?
Ishaq dar: Well, let me google the meaning of Fascism .. i think i said something else..
Ishaq dar: You haven't studied.. and you haven't had time .. to see what kind of fascism he is doing…
Stephen Sackur: Have checked from google, you wanted to say facism ..
Ishaq dar: Yes, it was Fascism!
Stephen Sackur: Well! i have to end it here! you really fucked my head with your crazy answers. I don't know how and why people like you were ever appointed as the Finance ministers in Pakistan.
Ishaq dar: What… I disbelief… I dont agree with you ..
Stephen Sackur: Get the fuck outta here!