Introduction
Saudi Arabia is an official kingdom, it houses many Asian workers from Pakistan and India. Therefore, the official language is Arabic but there are other languages like Urdu and Farsi and many other Asian languages are spoken in this region. Also, the dialects in three different regions of Saudi Arabia are different. Islam is the main practising region as every year, the city of Makkah and medina house millions of people from around the world. These people perform their pilgrimage in the city of Makkah and also visit the Medina. Saudi Arabia is also an ally of America, Pakistan and India. Although, this country is also involved in a big conflict currently going on in Yemen.
Culture of Saudi Arabia
The eastern coast is populated with Shia Muslims, while the Sunni Muslims are populating the majority of Saudi Arabia. 
The official holiday in Saudi Arabia is of Friday, that is also a holy day for Muslims all around the world. 
Additionally, drinking is prohibited in Saudia Arabia, and there are various laws implemented to stop smoking, gum chewing, etc. 
Major celebrations include the Saudi national day, that is 23rd of September. The Eid ul Adha, and Eid ul Fitr. 
Additionally, there were bans of various kinds, like bans on cinema, ban on women driving cars. But now with the new king on the throne, the things are changing very fast for Saudi Arabia.
The culture is changing very fast with temples of Hindus and churches for Christians are also being built
Not only this but cinemas are also open and women are also now allowed to drive the cars
Women can also attend a social gathering with men and various other sports events, before that it was not allowed in Saudi Arabia.
Family status in Saudi Arabia
The tribal and close family traditions are common in the kingdom of Saudi Arabia
Saudi's give all of their importance to their family culture, their clans and their tribes
Most of the families in Saudi Arabia and are close and contains many family members
Therefore, their social networks are mainly derived from the family cultures, cousins, friends etc
Nepotism is considered a privilege in Saudi Arabia, and the people are proud of it
Common beliefs are mainly divided among economic divides in the country, even the king of Saudi Arabia enslaved his cousins to get to the throne and to cement his stature in the kingdom
Gender roles in Saudi Arabia
Gender difference is strict as indicated above that women were not allowed to go out without covering their heads or wearing an abaya
Additionally, women were not allowed to socialize
But now gender roles are gradually changing and the women are provided with equal opportunities in the country
Also, most of the women do not work in Saudi Arabia
Additionally, the presence of a male guardian is also necessary for Saudi Arabia
Women can invest in the property and own any property on their name
Women are conceptualized as the cornerstone of the family and nurturer rather than the provider of the family 
Socialization in the kingdom of Saudi Arabia
Socialisation is on a path to change in the kingdom of Saudi Arabia, dramatic changes have happened in the last 40 to 50 years
In the older days, mothers used to give birth in the homes, she also played the role of the wet-nurse. But this aspect also induced the religion, and culture within their children and the whole family
Additionally, servants are also very responsible in the kingdom of Saudi Arabia to raise the children of the families
The economy of the Kingdom of Saudi Arabia
Kingdom of Saudi Arabia's economy is based on the oil and petroleum
Before the discovery of oil in Saudi Arabia, the kingdom was exporting coffee, sheep, cardamom, rice and clothes
Now, it produces very basic ingredients because most of its economy is based on oil
Modest income has been received by the kingdom of Saudi Arabia since the people from all around the world visit Saudi Arabia because of pilgrimage and they spend a lot of money on their holy journey
Not only this, now the kingdom of Saudi Arabia is opening various sites for tourists also, additionally, single women will be given visas also
Culture and arts of the kingdom of Saudi Arabia
Poetry and literature are widely renowned in the Kingdom of Saudi Arabia
Recitation of the holy book Quran is also a normal tradition in weddings and various other events
Although, the mindset of people is changing and is being influenced by the cultures of Egypt and Lebanon
Because the shariah law is being imposed, various publications are being censored that are written against the king
Folk art and sculpture is also one of the most common arts and culture that can be experienced in Saudi Arabia
Additionally, paintings and statues are not considered valid in the culture of Saudi Arabia
The younger generation is being influenced by online gaming and the utilisation of the internet
The tradition of soccer in Saudi Arabia is also very prominent, a good national team also compete in FIFA tournaments
Business and etiquettes
In the kingdom of Saudi Arabia, most of the men wear long and baggy shirts and also wear a traditional Arabic hat
Business is not given much priority over families, traditions and culture
Religion is intrinsic even in the business values of Saudi Arabia
Most of the workers are from Asian countries like Pakistan, India and Bangladesh
Conservative business attires are worn by women, the colours should also be neutral
Saudi's expect three kisses while greeting or meeting with them
Saudi's are strict about their time, and expect their business meetings to be started at the given time also
Negotiations are mostly made based on money because the kingdom is rich, therefore it has no problem to hire anyone for any particular project
How can we revive the doomed city of Karachi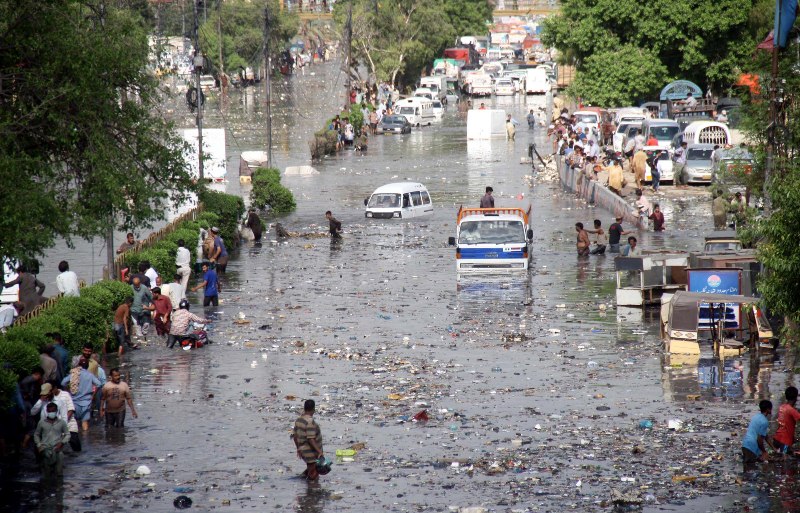 The City of Karachi is certainly doomed, with flooded streets and no electricity, people are barely making the two ends meet. There are multiple reasons why Karachi is facing a disastrous situation because the city of Karachi should have been like a European city but currently its infrastructure, it cannot even compete with underdeveloped African cities. Every city is built on a mega plan, with roads and infrastructure of drainage is being laid out. The foundations of Karachi have become old and by this time, Karachi would have gone tons and tons of changes to become a self-sustaining metropolis. But, the tale about Karachi's past is sad and not worth telling. Therefore, we don't want to discuss the past, what has been done is done and now we have to move forward. What can we do make this city better, because there are three problems that are being faced by this city which are persistent and has made the life of 16,094,000 people a living hell. The problem of drainage, the problem of electricity and the problem of waste management. This article intends to provide a solution rather than criticising any authorities because criticism cannot make a difference, not now and not in future.
How to solve the Electricity problem
Electricity generation with solar panels
Karachi mostly witnesses hot weather, except a rainy monsoon season that does not persist for long. We can solve our electricity problem by taking advantage of the hot summers and the hot summers even persist until late October and also until the earlier days of November. A big field having tons and tons of solar panels can be created, that investment would be one time and every home can be given a particular quota of electricity that can be utilised every month.
Electricity generation with Waste
We all know that tons of tons of waste have been wasted on the streets of Karachi since we don't have a proper waste collection system. An easy way to utilise that waste is to convert the excess waste into the energy. Again it will not be a big ask, and I don't think what kind of 18th amendment is stopping a prime minister to invest in a megacity like Karachi. Below stated figure is a simple process to convert the waste into the useable energy. But the problem is that how do we collect waste, if people keep throwing the waste on their streets, since there is no one who will come to collect the waste from their home. Hence, it will be disposed anywhere outside their home. Now, lets talk about how to solve the waste management problem.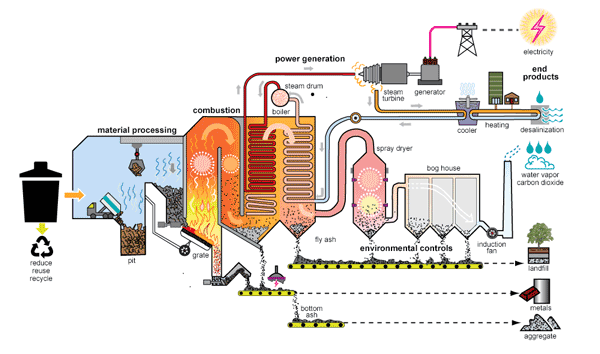 How to solve the problem of waste management
Design an incentive waste collection system
Waste collection can be easily done, by paying a simple amount to people, obviously, a workforce will be hired to collect the waste. The people of Karachi will be provided two bags and they have to segregate their waste with glass in one shopper and other waste in one shopper. So that the recyclable waste can be easily sent to waste to energy plant and hence its segregation from the waste that cannot be used to make electricity will not be a problem. Now lets talk about how to solve the problem of excess rainwater, and how the rainwater can be utilised effectively
How to solve the problem of excess rainwater
Design an underground sewage system
An underground sewage system will store the water and transfer it to certain parks and bigger fields that are specially created for a recreational basis. Chinese have created such solutions in which excess rainwater is being transferred to large recreational fields and hence they don't have to water the plants with another source of water. Not only this rainwater can be treated and used to plant vegetables in the same recreational spaces. All of the above-provided solutions are not out of the world and might not demand huge investments. All we need is to invest in the city of Karachi and to ensure its proper development. Else our next generation would be suffering from the same problems that we are suffering from.
How to shape a sustainable city
A sustainable city includes a proper sewage system, renewable energy plants, good recreational spaces for people to hang out. Sustainable transportation and good infrastructure that is built to travel to and fro from a location. None of these can be found in a doomed city like Karachi. But in future, we as citizens of Karachi demand these things as we deserve better and better living standards. We cannot wait more, the waiting time has already passed and our lives have already infected!