Introduction
Saudi Arabia is an official kingdom, it houses many Asian workers from Pakistan and India. Therefore, the official language is Arabic but there are other languages like Urdu and Farsi and many other Asian languages are spoken in this region. Also, the dialects in three different regions of Saudi Arabia are different. Islam is the main practising region as every year, the city of Makkah and medina house millions of people from around the world. These people perform their pilgrimage in the city of Makkah and also visit the Medina. Saudi Arabia is also an ally of America, Pakistan and India. Although, this country is also involved in a big conflict currently going on in Yemen.
Culture of Saudi Arabia
The eastern coast is populated with Shia Muslims, while the Sunni Muslims are populating the majority of Saudi Arabia. 
The official holiday in Saudi Arabia is of Friday, that is also a holy day for Muslims all around the world. 
Additionally, drinking is prohibited in Saudia Arabia, and there are various laws implemented to stop smoking, gum chewing, etc. 
Major celebrations include the Saudi national day, that is 23rd of September. The Eid ul Adha, and Eid ul Fitr. 
Additionally, there were bans of various kinds, like bans on cinema, ban on women driving cars. But now with the new king on the throne, the things are changing very fast for Saudi Arabia.
The culture is changing very fast with temples of Hindus and churches for Christians are also being built
Not only this but cinemas are also open and women are also now allowed to drive the cars
Women can also attend a social gathering with men and various other sports events, before that it was not allowed in Saudi Arabia.
Family status in Saudi Arabia
The tribal and close family traditions are common in the kingdom of Saudi Arabia
Saudi's give all of their importance to their family culture, their clans and their tribes
Most of the families in Saudi Arabia and are close and contains many family members
Therefore, their social networks are mainly derived from the family cultures, cousins, friends etc
Nepotism is considered a privilege in Saudi Arabia, and the people are proud of it
Common beliefs are mainly divided among economic divides in the country, even the king of Saudi Arabia enslaved his cousins to get to the throne and to cement his stature in the kingdom
Gender roles in Saudi Arabia
Gender difference is strict as indicated above that women were not allowed to go out without covering their heads or wearing an abaya
Additionally, women were not allowed to socialize
But now gender roles are gradually changing and the women are provided with equal opportunities in the country
Also, most of the women do not work in Saudi Arabia
Additionally, the presence of a male guardian is also necessary for Saudi Arabia
Women can invest in the property and own any property on their name
Women are conceptualized as the cornerstone of the family and nurturer rather than the provider of the family 
Socialization in the kingdom of Saudi Arabia
Socialisation is on a path to change in the kingdom of Saudi Arabia, dramatic changes have happened in the last 40 to 50 years
In the older days, mothers used to give birth in the homes, she also played the role of the wet-nurse. But this aspect also induced the religion, and culture within their children and the whole family
Additionally, servants are also very responsible in the kingdom of Saudi Arabia to raise the children of the families
The economy of the Kingdom of Saudi Arabia
Kingdom of Saudi Arabia's economy is based on the oil and petroleum
Before the discovery of oil in Saudi Arabia, the kingdom was exporting coffee, sheep, cardamom, rice and clothes
Now, it produces very basic ingredients because most of its economy is based on oil
Modest income has been received by the kingdom of Saudi Arabia since the people from all around the world visit Saudi Arabia because of pilgrimage and they spend a lot of money on their holy journey
Not only this, now the kingdom of Saudi Arabia is opening various sites for tourists also, additionally, single women will be given visas also
Culture and arts of the kingdom of Saudi Arabia
Poetry and literature are widely renowned in the Kingdom of Saudi Arabia
Recitation of the holy book Quran is also a normal tradition in weddings and various other events
Although, the mindset of people is changing and is being influenced by the cultures of Egypt and Lebanon
Because the shariah law is being imposed, various publications are being censored that are written against the king
Folk art and sculpture is also one of the most common arts and culture that can be experienced in Saudi Arabia
Additionally, paintings and statues are not considered valid in the culture of Saudi Arabia
The younger generation is being influenced by online gaming and the utilisation of the internet
The tradition of soccer in Saudi Arabia is also very prominent, a good national team also compete in FIFA tournaments
Business and etiquettes
In the kingdom of Saudi Arabia, most of the men wear long and baggy shirts and also wear a traditional Arabic hat
Business is not given much priority over families, traditions and culture
Religion is intrinsic even in the business values of Saudi Arabia
Most of the workers are from Asian countries like Pakistan, India and Bangladesh
Conservative business attires are worn by women, the colours should also be neutral
Saudi's expect three kisses while greeting or meeting with them
Saudi's are strict about their time, and expect their business meetings to be started at the given time also
Negotiations are mostly made based on money because the kingdom is rich, therefore it has no problem to hire anyone for any particular project
Ishaq Dar; An Exemplary fool!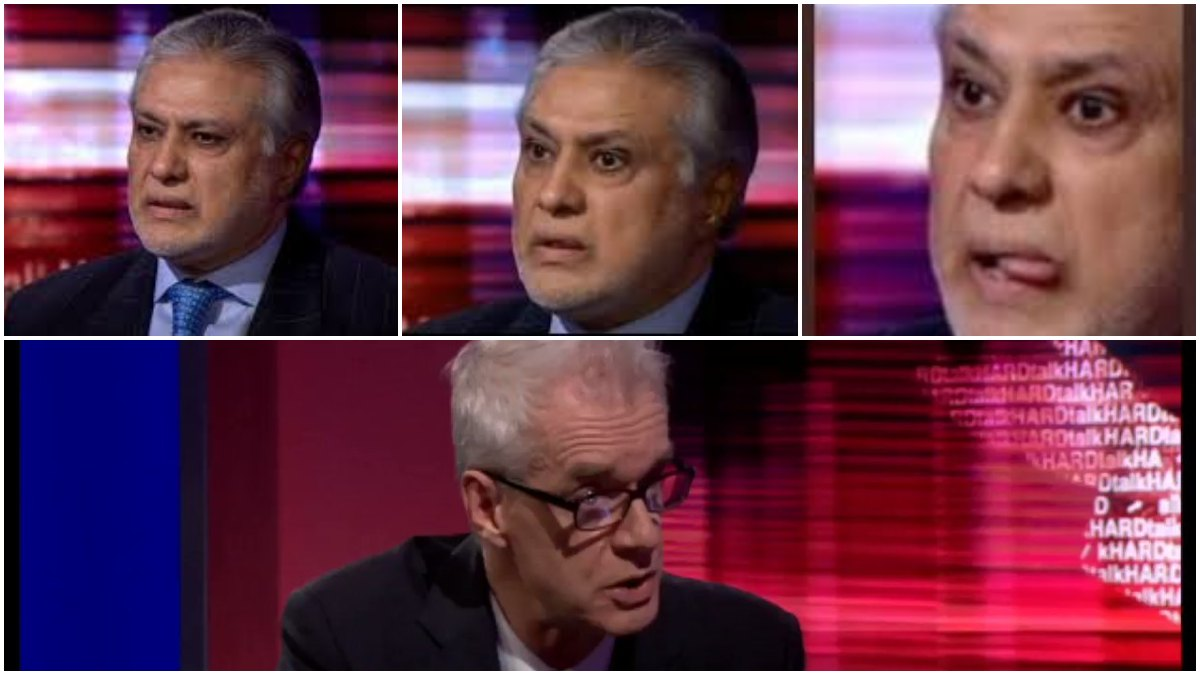 Stephen Sackur, age 56 is widely known for his controversial BBC Hardtalks with guests from a wide variety of professions. Interviewed the ex-finance minister of Pakistan, Ishaq dar. This was the kind of an interview, where ishaq dar was supposed to cement his position about his perspective of the current government of Pakistan. But the interview went completely other way, since ishaq dar from the start of the interview, was called as an escapee from Pakistan by the interviewer, by Stephen sacker himself.
When asked that you are alleged to have more than 600 million dollars, these are assets more than your acquired resources, and that how many properties that you own in Pakistan?
Ishaq dar replied with hesitation at first, that its all declared in my tax returns, Stephen Sackur again asked how many properties did you own in Pakistan… Ishaq dar replied like a seasoned liar, "One property"!
"One property", even a corrupt cleric owns more than one property in Pakistan, and Ishaq dar bluntly replied that i only own one property in Pakistan.
Stephen Sackur asked again, Not even in Dubai, Ishaq dar replied, " My sons have just one villa and is owned by them since they are in business for last 17 years".
Stephen Sackur said again, that when I asked you, "how many properties you have in total", then you replied, "Only one"..so it's not strictly true. Now, change of stance by Seasoned fool, "Agains insisting that it's true, and that my children are adults, they can make as many properties as they want". So Stephen Sackur asked again, that you know that when NAB (National Accountability Bureau) was looking at your assets, it meant that they were looking at both you and your family's assets.
Stephen Sackur ask again, if all of this is very clear cut and if its true that you only own one property. And everything is just very crystal clear, then why do you not go back to Pakistan and make this case in the court of Law ( Where you were an ex-finance minister, where you looted all the money, made fool of the old and sick, took votes from innocent people who think you can change their lives)
Ishaq dar replies, " Well, the court of law, my lawyers were there ( thinking in the back of his mind, that I don't give a fuck about courts in Pakistan)… I am here for the medical treatment and I don't wanna go back since my ass already escaped to London.
Again Stephen Sackur asks, "you been here for 3 fuckin years, are you trying to make a fool out of me, shit face" Because i have seen fuck boys like you giving me a prep talk, but i know a fool when i see one, and you are the one".
Anyways lets move on seriously!
Stephen Sackur: Are you still really suffering from the disease?
Ishaq dar: Yes, Yes, I am ( i sometimes forget what i am suffering from, but yes i am suffering from schizophrenia too)
Stephen Sackur: Cant you possibly go back to Pakistan, we are already hosting a lot of fugitives like you here?
Ishaq dar: Well.. (hesitatingly) lets see…Now starts bashing Pakistan .. Where are the human rights.. and the current government is running a maligning campaign against former Prime minister, Nawaz Sharif
Hold on ! fuck face hold on …
Stephen Sackur: The truth is Nawaz Sharif is a convicted criminal..
Ishaq dar: its not proved ..its not proved! even in the two judgements gave by the court of Pakistan ( the court that i don't give a shit about, since i am escaping from it and sitting on my fat ass in London enjoying this beautiful life )
Stephen Sackur: Nawaz sharif (the leader of your party) was convicted by the court for ten years on the charges of corruption as his name appeared in the Panama Papers, ( then his sentence was reduced to 8 years) .. he was allowed to go to London on medical reasons like you were allowed, and then again you two fuck boys didn't went back to face the criminal prosecution and now you are sitting in front of me and telling me that you are not escaping justice ..
First of all Ishaq dar tell me, who the fuck do you think i am…
Stephen Sackur: You are trying to run a campaign against current Prime minister of Pakistan (Imran Khan), what credibility do you have?
ishaq dar: It was a stolen and rigged election ..
Stephen Sackur: But according to the EU monitoring report, the election results were satisfied and this means not rigged, so why the fuck would i listen to you …
ishaq dar: But it was rigged election
Stephen Sackur: how?
Ishaq dar: That's what they fucking told me .. what am I supposed to say on BBC ..
Stephen Sackur: So, the truth is that Imran khan has the democratic mandate and you are just a fuck boy! Because the EU chief of the commission said that the results of the elections are credible.
When Stephen Sackur asked that why did you put allegations on the army chief of your own country that he, himself influenced the election, Ishaq dar replied, " The bug sits at the top". "You don't know that Pakistan is a deep state", the term used by corrupt politicians when they are not in the government to indicate that army helped some party to win the elections.
But then again, Liar liar pants on fire ( you suck Ishaq dar, because you were in the government few years ago and sure you didn't say shit at that time.
Then after arguing on the same, notion he said, i am not pointing at the whole army, i am just pointing at some individuals. Ishaq dar meant to say, that current army journal is bad and he helped the current prime minister to get elected. But he is the same army journal who was appointed by Ishaq dar's government, so the fact that he helped the new Prime minster to get elected can never be true.
Again a tough question coming his way, Stephen Sackur asked that your leader, Nawaz Sharif made the govenrment with the military dictator General Zia, but suddenly he has decided that the Army is against him, because they are not working with him any more and he is not in the power…
Ishaq Dar: its an evolution process, this world came into being after the big bang!
Stephen Sackur: What the fuck is wrong with you Dar!
Ishaq Dar: I certainly disagree with you!
Stephen Sackur: I asked you a fucking question, you dick head!
Ishaq Dar: I…. I …. disbelief… i certainly don't … i disagree with you!
Stephen Sackur: Fuck u!
Ishaq Dar: What!
Anyways … lets
Ishaq Dar: Imran khan is bad guy, he was known as Taliban khan, he accused Pakistani intelligence services …
Stephen Sackur: It was regrettable that Ex-Prime-minister took the name of the current army chief in Pakistan, said by Bilawal Bhutto, and even the daughter of Nawaz sharif said that i am not anti-military.
Ishaq dar: Hey, can you ask me any easy fucking question, because these questions are fucking hard..and i don't know shit about them..
Stephen Sackur: Dummy! that's why its called Hard talk!
Stephen Sackur: Why are you creating instability in Pakistan when there is Pandemic in the whole wide world? What is the fucking, reason, are you fucking insane?
Ishaq dar: You have to be a neutral umpire here …
Stephen Sackur: We are not playing fucking cricket here, dick head…
Stephen Sackur: You can choose to go home, but what you are doing is ..that you are sitting in London, and trying to destabalise the situation in Pakistan… who the fuck does that to their own country … your people elected Imran Khan… so stay the fuck away from them.. because you ain't good to respond me now, how can you run the finances of a big country like Pakistan… Sure in hell, you cant run a small firm, you cheap stake..
Stephen Sackur: And i think Imran khan stand in a very tough stand against India and Modi.. and he cen never be a fascist…
Ishaq dar: ( smiling)
Stephen Sackur: What the fuck are you smiling about, i am serious!
Ishaq dar: Ok (serious)
Stephen Sackur: So, just tell me what kind of his policies personifies fascism, when he has opened the pilgrimage locations in Pakistan and invested upon them so that the Sikhs can come from India to Pakistan and they can visit their own religious sites … Tell me ?
Ishaq dar: Well, let me google the meaning of Fascism .. i think i said something else..
Ishaq dar: You haven't studied.. and you haven't had time .. to see what kind of fascism he is doing…
Stephen Sackur: Have checked from google, you wanted to say facism ..
Ishaq dar: Yes, it was Fascism!
Stephen Sackur: Well! i have to end it here! you really fucked my head with your crazy answers. I don't know how and why people like you were ever appointed as the Finance ministers in Pakistan.
Ishaq dar: What… I disbelief… I dont agree with you ..
Stephen Sackur: Get the fuck outta here!