Introduction
The platform of google translator is used millions and billions around the world. If you are wandering in Russia, or South America. You might realise that people don't speak English a lot. Therefore, when you are wandering around the streets, asking for a way to your hotel or having trouble finding a good hotel. Then, you have the only choice, that is to use google translate. Not only this, but various applications are using the google translator to bridge the language gap among the people.
Not made for professional translation
Cannot translate lengthy documents
Bugs on the platform of google translator
Translate a text from English to French and then translate it back to English, you will learn the problem with the google translator
Humans over bots
Not made for professional translation
Google translator is a very helpful application and mostly used in general by people around the world. But, if you are in a professional meeting, deciding the fate of your new project that worth millions then it would not be a good option to use the google translator. Not only this when you have some confidential documents and you are using a platform like a google. Then there are also chances of data theft and protection. Some of the companies have also claimed that their confidential documents were published online when they tried to use the normal translators. Therefore, it is for sure, that google translator platform cannot be used until when we are trying to translate our confidential documents that worth millions. In this case, a person having good translation skills can be hired to translate the documents. Then, it might not create a lot of problems for the company in future.
Cannot translate lengthy documents
If you are trying to translate some lengthy documents then google translator does not give you such a facility. Also, there Is no option to upload the document and get the exact translation of that document. Because Google knows that it is not easy for them to translate the whole document one go. Therefore, they are not willing to provide such a facility for now. Although they are trying different things to improve their translation platform, still there is a long way ahead.
Bugs on the platform of google translator
This is another issue related to this platform when you are trying to translate any literal document. And, the translation is very ambiguous, therefore you have fewer chances of getting a professionally translated text. The bugs in programming are not new, because the programmers at google might not be translators. Hence, they need good translators who are also programmers. These programmers who also know the languages would also be able to program the platform of google translator effectively. But in another case, a programmer would encounter a lot of problems. And, in this case, various issues and bugs will be created while programming the platform of google translator.
Translate a text from English to French and then translate it back to English, you will learn the problem with the google translator
You can cross-check doing the same to translate the efficiency of this machine platform. Ever talked to a robot, can you know the expression of that robot. That robot can never understand your wit, it will not laugh when you will crack a joke. Although, humans are trying their best to put the machine language and artificial intelligence at the forefront of helping humanity. But it is never possible for anyone to have the same kind of joy that we can have in a human to human interaction. Then again, when you are trying to translate French to English, it might be able to do it without some or no errors. But then again, when you again change the same sentence back to English. The translation would be so horrible, that you cannot stand it for even a second. It is not possible for you to accept that translation and to you can never easily interact with any foreign girl or guy while doing so. For instance, you want to greet them, and the translation shows you some bad slang word. This would spoil your trip, your translator can make you look bad if you are unable to communicate with the native language. Especially when you are unable to greet people, it would be an added pressure to survive alone in that particular country.
Leys take a google translator and a human, give them the same sentence and check their translation. A human will be using their research and perfection to change the language with the verbs, adverbs, noun and pronouns. On the other hand, the google translator would not be able to do the same. Hence it is never the same when you are comparing the google translator with the translation of a human. A human is groomed in a culture, he knows the slangs, the accurate nouns and how sentences should be connected. Human likes perfection, they will only translate when they are sure to understand that what they have translated and accurate. The human mind will always demand accuracy, and perfection, it can adapt and change according to the atmosphere. But on the hand, the machine language can only be improved if humans are continuously telling them the patterns and about human emotions, their norms and reactions. Therefore, a human can never be replaced by the bot, the bot will always be a humans creation. It can never attain such perfection that is required to effectively interact among two normal human beings. Therefore, the google translator demands a lot of work required to be done.
Conclusion
Google translator is a machine learning-based platform, if humans are trying to improve it continuously then only it can perform better. Otherwise, it would fail at every cost, it would not be able to deliver the correct kind of quality that is being required by the human for interaction with other humans. Human interaction is based on emotions, jargons, slang, but the google translator is unable to understand all of this. Google translate Is good for few sentences, but it cannot translate official documents also.
How can we revive the doomed city of Karachi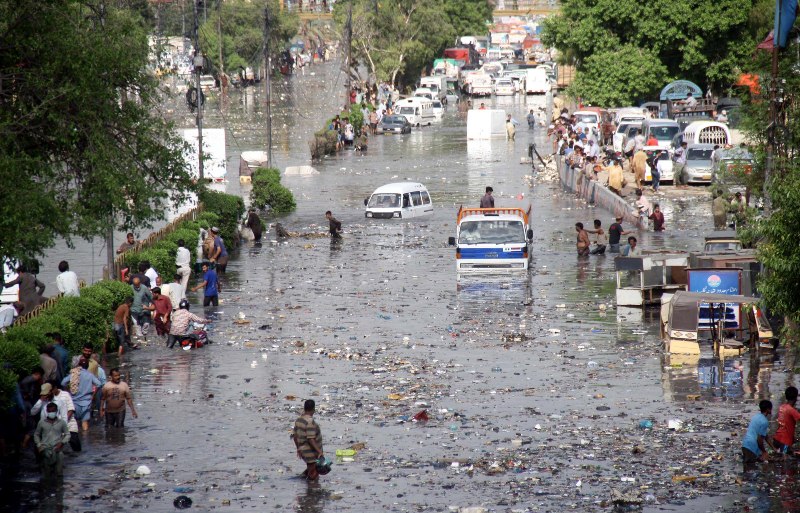 The City of Karachi is certainly doomed, with flooded streets and no electricity, people are barely making the two ends meet. There are multiple reasons why Karachi is facing a disastrous situation because the city of Karachi should have been like a European city but currently its infrastructure, it cannot even compete with underdeveloped African cities. Every city is built on a mega plan, with roads and infrastructure of drainage is being laid out. The foundations of Karachi have become old and by this time, Karachi would have gone tons and tons of changes to become a self-sustaining metropolis. But, the tale about Karachi's past is sad and not worth telling. Therefore, we don't want to discuss the past, what has been done is done and now we have to move forward. What can we do make this city better, because there are three problems that are being faced by this city which are persistent and has made the life of 16,094,000 people a living hell. The problem of drainage, the problem of electricity and the problem of waste management. This article intends to provide a solution rather than criticising any authorities because criticism cannot make a difference, not now and not in future.
How to solve the Electricity problem
Electricity generation with solar panels
Karachi mostly witnesses hot weather, except a rainy monsoon season that does not persist for long. We can solve our electricity problem by taking advantage of the hot summers and the hot summers even persist until late October and also until the earlier days of November. A big field having tons and tons of solar panels can be created, that investment would be one time and every home can be given a particular quota of electricity that can be utilised every month.
Electricity generation with Waste
We all know that tons of tons of waste have been wasted on the streets of Karachi since we don't have a proper waste collection system. An easy way to utilise that waste is to convert the excess waste into the energy. Again it will not be a big ask, and I don't think what kind of 18th amendment is stopping a prime minister to invest in a megacity like Karachi. Below stated figure is a simple process to convert the waste into the useable energy. But the problem is that how do we collect waste, if people keep throwing the waste on their streets, since there is no one who will come to collect the waste from their home. Hence, it will be disposed anywhere outside their home. Now, lets talk about how to solve the waste management problem.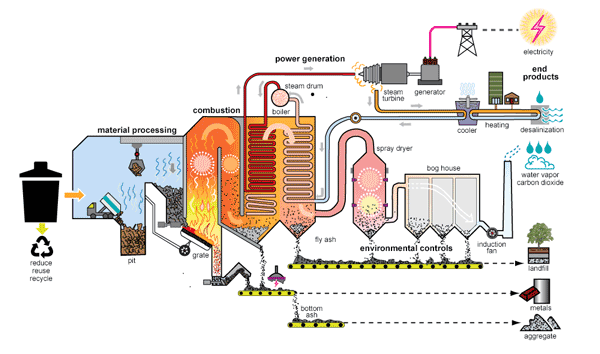 How to solve the problem of waste management
Design an incentive waste collection system
Waste collection can be easily done, by paying a simple amount to people, obviously, a workforce will be hired to collect the waste. The people of Karachi will be provided two bags and they have to segregate their waste with glass in one shopper and other waste in one shopper. So that the recyclable waste can be easily sent to waste to energy plant and hence its segregation from the waste that cannot be used to make electricity will not be a problem. Now lets talk about how to solve the problem of excess rainwater, and how the rainwater can be utilised effectively
How to solve the problem of excess rainwater
Design an underground sewage system
An underground sewage system will store the water and transfer it to certain parks and bigger fields that are specially created for a recreational basis. Chinese have created such solutions in which excess rainwater is being transferred to large recreational fields and hence they don't have to water the plants with another source of water. Not only this rainwater can be treated and used to plant vegetables in the same recreational spaces. All of the above-provided solutions are not out of the world and might not demand huge investments. All we need is to invest in the city of Karachi and to ensure its proper development. Else our next generation would be suffering from the same problems that we are suffering from.
How to shape a sustainable city
A sustainable city includes a proper sewage system, renewable energy plants, good recreational spaces for people to hang out. Sustainable transportation and good infrastructure that is built to travel to and fro from a location. None of these can be found in a doomed city like Karachi. But in future, we as citizens of Karachi demand these things as we deserve better and better living standards. We cannot wait more, the waiting time has already passed and our lives have already infected!