Introduction
The platform of google translator is used millions and billions around the world. If you are wandering in Russia, or South America. You might realise that people don't speak English a lot. Therefore, when you are wandering around the streets, asking for a way to your hotel or having trouble finding a good hotel. Then, you have the only choice, that is to use google translate. Not only this, but various applications are using the google translator to bridge the language gap among the people.
Not made for professional translation
Cannot translate lengthy documents
Bugs on the platform of google translator
Translate a text from English to French and then translate it back to English, you will learn the problem with the google translator
Humans over bots
Not made for professional translation
Google translator is a very helpful application and mostly used in general by people around the world. But, if you are in a professional meeting, deciding the fate of your new project that worth millions then it would not be a good option to use the google translator. Not only this when you have some confidential documents and you are using a platform like a google. Then there are also chances of data theft and protection. Some of the companies have also claimed that their confidential documents were published online when they tried to use the normal translators. Therefore, it is for sure, that google translator platform cannot be used until when we are trying to translate our confidential documents that worth millions. In this case, a person having good translation skills can be hired to translate the documents. Then, it might not create a lot of problems for the company in future.
Cannot translate lengthy documents
If you are trying to translate some lengthy documents then google translator does not give you such a facility. Also, there Is no option to upload the document and get the exact translation of that document. Because Google knows that it is not easy for them to translate the whole document one go. Therefore, they are not willing to provide such a facility for now. Although they are trying different things to improve their translation platform, still there is a long way ahead.
Bugs on the platform of google translator
This is another issue related to this platform when you are trying to translate any literal document. And, the translation is very ambiguous, therefore you have fewer chances of getting a professionally translated text. The bugs in programming are not new, because the programmers at google might not be translators. Hence, they need good translators who are also programmers. These programmers who also know the languages would also be able to program the platform of google translator effectively. But in another case, a programmer would encounter a lot of problems. And, in this case, various issues and bugs will be created while programming the platform of google translator.
Translate a text from English to French and then translate it back to English, you will learn the problem with the google translator
You can cross-check doing the same to translate the efficiency of this machine platform. Ever talked to a robot, can you know the expression of that robot. That robot can never understand your wit, it will not laugh when you will crack a joke. Although, humans are trying their best to put the machine language and artificial intelligence at the forefront of helping humanity. But it is never possible for anyone to have the same kind of joy that we can have in a human to human interaction. Then again, when you are trying to translate French to English, it might be able to do it without some or no errors. But then again, when you again change the same sentence back to English. The translation would be so horrible, that you cannot stand it for even a second. It is not possible for you to accept that translation and to you can never easily interact with any foreign girl or guy while doing so. For instance, you want to greet them, and the translation shows you some bad slang word. This would spoil your trip, your translator can make you look bad if you are unable to communicate with the native language. Especially when you are unable to greet people, it would be an added pressure to survive alone in that particular country.
Leys take a google translator and a human, give them the same sentence and check their translation. A human will be using their research and perfection to change the language with the verbs, adverbs, noun and pronouns. On the other hand, the google translator would not be able to do the same. Hence it is never the same when you are comparing the google translator with the translation of a human. A human is groomed in a culture, he knows the slangs, the accurate nouns and how sentences should be connected. Human likes perfection, they will only translate when they are sure to understand that what they have translated and accurate. The human mind will always demand accuracy, and perfection, it can adapt and change according to the atmosphere. But on the hand, the machine language can only be improved if humans are continuously telling them the patterns and about human emotions, their norms and reactions. Therefore, a human can never be replaced by the bot, the bot will always be a humans creation. It can never attain such perfection that is required to effectively interact among two normal human beings. Therefore, the google translator demands a lot of work required to be done.
Conclusion
Google translator is a machine learning-based platform, if humans are trying to improve it continuously then only it can perform better. Otherwise, it would fail at every cost, it would not be able to deliver the correct kind of quality that is being required by the human for interaction with other humans. Human interaction is based on emotions, jargons, slang, but the google translator is unable to understand all of this. Google translate Is good for few sentences, but it cannot translate official documents also.
Ishaq Dar; An Exemplary fool!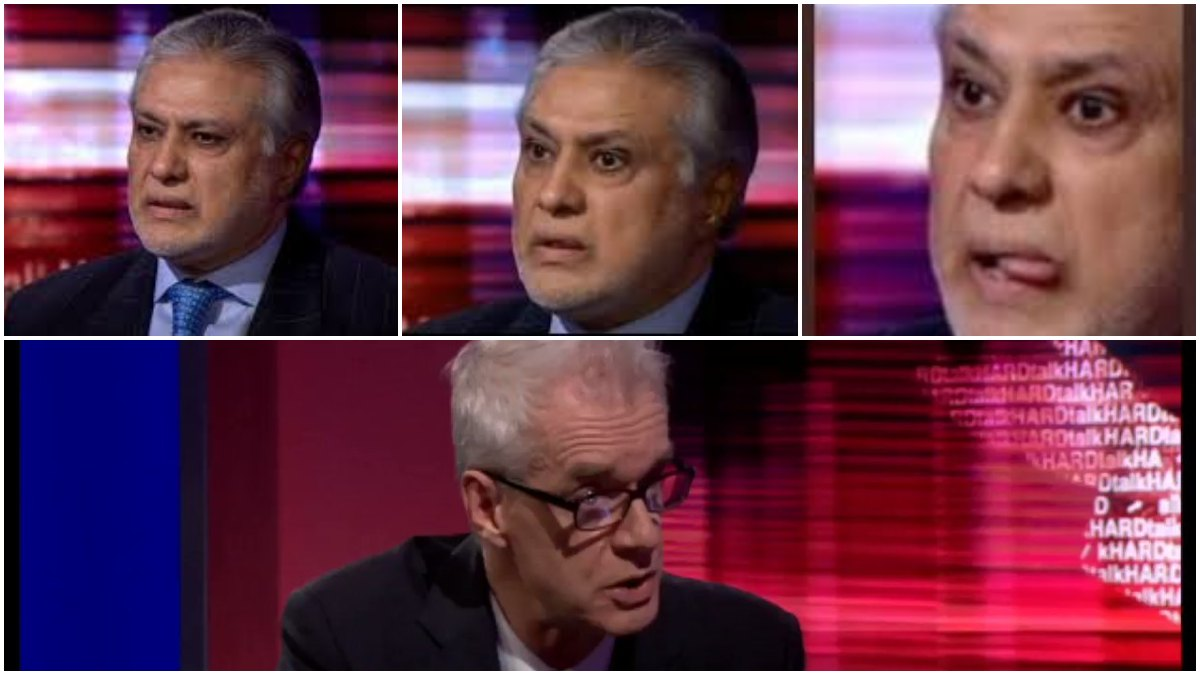 Stephen Sackur, age 56 is widely known for his controversial BBC Hardtalks with guests from a wide variety of professions. Interviewed the ex-finance minister of Pakistan, Ishaq dar. This was the kind of an interview, where ishaq dar was supposed to cement his position about his perspective of the current government of Pakistan. But the interview went completely other way, since ishaq dar from the start of the interview, was called as an escapee from Pakistan by the interviewer, by Stephen sacker himself.
When asked that you are alleged to have more than 600 million dollars, these are assets more than your acquired resources, and that how many properties that you own in Pakistan?
Ishaq dar replied with hesitation at first, that its all declared in my tax returns, Stephen Sackur again asked how many properties did you own in Pakistan… Ishaq dar replied like a seasoned liar, "One property"!
"One property", even a corrupt cleric owns more than one property in Pakistan, and Ishaq dar bluntly replied that i only own one property in Pakistan.
Stephen Sackur asked again, Not even in Dubai, Ishaq dar replied, " My sons have just one villa and is owned by them since they are in business for last 17 years".
Stephen Sackur said again, that when I asked you, "how many properties you have in total", then you replied, "Only one"..so it's not strictly true. Now, change of stance by Seasoned fool, "Agains insisting that it's true, and that my children are adults, they can make as many properties as they want". So Stephen Sackur asked again, that you know that when NAB (National Accountability Bureau) was looking at your assets, it meant that they were looking at both you and your family's assets.
Stephen Sackur ask again, if all of this is very clear cut and if its true that you only own one property. And everything is just very crystal clear, then why do you not go back to Pakistan and make this case in the court of Law ( Where you were an ex-finance minister, where you looted all the money, made fool of the old and sick, took votes from innocent people who think you can change their lives)
Ishaq dar replies, " Well, the court of law, my lawyers were there ( thinking in the back of his mind, that I don't give a fuck about courts in Pakistan)… I am here for the medical treatment and I don't wanna go back since my ass already escaped to London.
Again Stephen Sackur asks, "you been here for 3 fuckin years, are you trying to make a fool out of me, shit face" Because i have seen fuck boys like you giving me a prep talk, but i know a fool when i see one, and you are the one".
Anyways lets move on seriously!
Stephen Sackur: Are you still really suffering from the disease?
Ishaq dar: Yes, Yes, I am ( i sometimes forget what i am suffering from, but yes i am suffering from schizophrenia too)
Stephen Sackur: Cant you possibly go back to Pakistan, we are already hosting a lot of fugitives like you here?
Ishaq dar: Well.. (hesitatingly) lets see…Now starts bashing Pakistan .. Where are the human rights.. and the current government is running a maligning campaign against former Prime minister, Nawaz Sharif
Hold on ! fuck face hold on …
Stephen Sackur: The truth is Nawaz Sharif is a convicted criminal..
Ishaq dar: its not proved ..its not proved! even in the two judgements gave by the court of Pakistan ( the court that i don't give a shit about, since i am escaping from it and sitting on my fat ass in London enjoying this beautiful life )
Stephen Sackur: Nawaz sharif (the leader of your party) was convicted by the court for ten years on the charges of corruption as his name appeared in the Panama Papers, ( then his sentence was reduced to 8 years) .. he was allowed to go to London on medical reasons like you were allowed, and then again you two fuck boys didn't went back to face the criminal prosecution and now you are sitting in front of me and telling me that you are not escaping justice ..
First of all Ishaq dar tell me, who the fuck do you think i am…
Stephen Sackur: You are trying to run a campaign against current Prime minister of Pakistan (Imran Khan), what credibility do you have?
ishaq dar: It was a stolen and rigged election ..
Stephen Sackur: But according to the EU monitoring report, the election results were satisfied and this means not rigged, so why the fuck would i listen to you …
ishaq dar: But it was rigged election
Stephen Sackur: how?
Ishaq dar: That's what they fucking told me .. what am I supposed to say on BBC ..
Stephen Sackur: So, the truth is that Imran khan has the democratic mandate and you are just a fuck boy! Because the EU chief of the commission said that the results of the elections are credible.
When Stephen Sackur asked that why did you put allegations on the army chief of your own country that he, himself influenced the election, Ishaq dar replied, " The bug sits at the top". "You don't know that Pakistan is a deep state", the term used by corrupt politicians when they are not in the government to indicate that army helped some party to win the elections.
But then again, Liar liar pants on fire ( you suck Ishaq dar, because you were in the government few years ago and sure you didn't say shit at that time.
Then after arguing on the same, notion he said, i am not pointing at the whole army, i am just pointing at some individuals. Ishaq dar meant to say, that current army journal is bad and he helped the current prime minister to get elected. But he is the same army journal who was appointed by Ishaq dar's government, so the fact that he helped the new Prime minster to get elected can never be true.
Again a tough question coming his way, Stephen Sackur asked that your leader, Nawaz Sharif made the govenrment with the military dictator General Zia, but suddenly he has decided that the Army is against him, because they are not working with him any more and he is not in the power…
Ishaq Dar: its an evolution process, this world came into being after the big bang!
Stephen Sackur: What the fuck is wrong with you Dar!
Ishaq Dar: I certainly disagree with you!
Stephen Sackur: I asked you a fucking question, you dick head!
Ishaq Dar: I…. I …. disbelief… i certainly don't … i disagree with you!
Stephen Sackur: Fuck u!
Ishaq Dar: What!
Anyways … lets
Ishaq Dar: Imran khan is bad guy, he was known as Taliban khan, he accused Pakistani intelligence services …
Stephen Sackur: It was regrettable that Ex-Prime-minister took the name of the current army chief in Pakistan, said by Bilawal Bhutto, and even the daughter of Nawaz sharif said that i am not anti-military.
Ishaq dar: Hey, can you ask me any easy fucking question, because these questions are fucking hard..and i don't know shit about them..
Stephen Sackur: Dummy! that's why its called Hard talk!
Stephen Sackur: Why are you creating instability in Pakistan when there is Pandemic in the whole wide world? What is the fucking, reason, are you fucking insane?
Ishaq dar: You have to be a neutral umpire here …
Stephen Sackur: We are not playing fucking cricket here, dick head…
Stephen Sackur: You can choose to go home, but what you are doing is ..that you are sitting in London, and trying to destabalise the situation in Pakistan… who the fuck does that to their own country … your people elected Imran Khan… so stay the fuck away from them.. because you ain't good to respond me now, how can you run the finances of a big country like Pakistan… Sure in hell, you cant run a small firm, you cheap stake..
Stephen Sackur: And i think Imran khan stand in a very tough stand against India and Modi.. and he cen never be a fascist…
Ishaq dar: ( smiling)
Stephen Sackur: What the fuck are you smiling about, i am serious!
Ishaq dar: Ok (serious)
Stephen Sackur: So, just tell me what kind of his policies personifies fascism, when he has opened the pilgrimage locations in Pakistan and invested upon them so that the Sikhs can come from India to Pakistan and they can visit their own religious sites … Tell me ?
Ishaq dar: Well, let me google the meaning of Fascism .. i think i said something else..
Ishaq dar: You haven't studied.. and you haven't had time .. to see what kind of fascism he is doing…
Stephen Sackur: Have checked from google, you wanted to say facism ..
Ishaq dar: Yes, it was Fascism!
Stephen Sackur: Well! i have to end it here! you really fucked my head with your crazy answers. I don't know how and why people like you were ever appointed as the Finance ministers in Pakistan.
Ishaq dar: What… I disbelief… I dont agree with you ..
Stephen Sackur: Get the fuck outta here!