On May, 27 history will be written as both Nasa and SpaceX are launching astronauts into space. Astronauts Bob Behnken and Doug Hurley will be the first to orbit in the space. The mission is a demonstration of what to come in the future and is called Demo-2. SpaceX Dragon Spaceship will be used in this mission, this spaceship was in development for eight consecutive years. Both the astronauts have been isolating themselves amid the coronavirus, but in the space, they don't have to care for that anymore. This will be the first launch in 9 years from the U.S soil, the mission will leave from the Kennedy space centre. The Falcon 9 rocket is 23 stories, and the astronauts will board the new Dragon spaceship from there.
This mission is also a part of joint public and private companies program that is made to revive American aviation and flight capabilities. NASA was relying on Russian rockets in order to travel to and from the ISS, because its fleet retired in 2011. Although NASA locked down its premises, it carried on the mission that is very important for the United States to move forward. Elon musk was also excited, but he said that it took them 18 years to send the first humans into space and to orbit around the red planet. Elon Musk also stated that technology has to be advanced in a faster fashion, else we have no place to live on Mars. He is pursuing to build a city on Mars, and he wants low-cost flights to send humans on Mars as tourists also.
Alien life signs are now visible on Planet Venus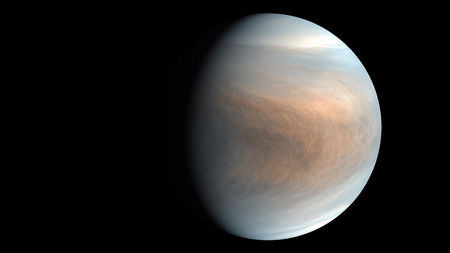 A rare toxic gas called as Phosphine has been found on the atmosphere of Venus, which does not indicate that humans will be thinking of travelling to venus for the near future but it is an indication of possible signs of Alien life. It has been indicated by scientists that this kind of quantity of phosphine is unexplainable and it can be an indication of alien life. Phosphine on earth can be found in pond slimes and penguin dungs, and it is the most foul-smelling gasses on earth. Therefore, scientists believe that it indicates a sign of life on Venus.
How this is an indication of life, this is the main question which further states the fact that the phosphorus cannot be produced without any non-biological way. Therefore, the alien microbes could be causing the production of this gas on venus's atmosphere. Because on the earth phosphine can only be made in a lab or through the help of the microorganisms. On Jupiter and Saturn also, there is a presence of phosphine but the idea storms on these planets are the main cause of the phosphine gas.
About 5 to 20 parts billion of phosphine gas is present on the venus's atmosphere. It is a lot more than we have the amount of phosphine present on earth. phosphine can be broken down by light and therefore it can be realised that some particular phenomena are continuously making or producing the gas again and again on the planet venus. We think that it is the causing of any biological life but it can be some other process that might be producing the phosphine gas.