Tou bhai jesa kay sabko pata hay k pakistan main bhi coronavrius dakhil hochuka hay tou topi chahta hay apki jitni bhi madad krskay wo karay. Tou bhai china main tou ek asi bhi app achuki hay jo apko te dikhati hay k apkay kareb kahan corona ka case report hua hay.
Tou ap wahan mat jao. Chinese technology main bht taiz hay laikin bs ek azab main phans gya hay. Chalo, is azab say b jald hi bahr ajaiga. Waisay topi ye sari info khud bana bno kr ni bta rha balkey topi aljazeera ka channel dekh rha tha tou wahan abhi abhi usny unki ek reporter ki story dekhi jisnay ye sab dikhaya. Bhai khali para hay pura china.. jo b tourist hotspots thay wahan kutta b nazarnai arha tu bhai free main b china mat ja. Aur dua kar k sab is azab say nikal jain. Tou bhai is link k mutabik pakistan main bhi sirf ek hi case report hua hay .. ye link apko ye bhai btaiga k kitnay bnday kahan kahan margai hain aur kitnay case kis kis jagah par report huay hain.
tou bhai is link k mutabik 44000 loug china main corona ki zad main hain, second number par ata hay japan jahan 203 confirmed cases hain aur baki dunya main jo cases hain wo sirf 1 percent banday hain tu bhai ehtyat zrori hay, hath dhota reh jaisay k topi nay fusti corona wali post main btya hay..aur zindagi jeta reh.. chinal nikal lay ab..
Alien life signs are now visible on Planet Venus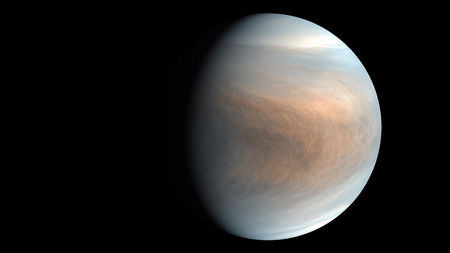 A rare toxic gas called as Phosphine has been found on the atmosphere of Venus, which does not indicate that humans will be thinking of travelling to venus for the near future but it is an indication of possible signs of Alien life. It has been indicated by scientists that this kind of quantity of phosphine is unexplainable and it can be an indication of alien life. Phosphine on earth can be found in pond slimes and penguin dungs, and it is the most foul-smelling gasses on earth. Therefore, scientists believe that it indicates a sign of life on Venus.
How this is an indication of life, this is the main question which further states the fact that the phosphorus cannot be produced without any non-biological way. Therefore, the alien microbes could be causing the production of this gas on venus's atmosphere. Because on the earth phosphine can only be made in a lab or through the help of the microorganisms. On Jupiter and Saturn also, there is a presence of phosphine but the idea storms on these planets are the main cause of the phosphine gas.
About 5 to 20 parts billion of phosphine gas is present on the venus's atmosphere. It is a lot more than we have the amount of phosphine present on earth. phosphine can be broken down by light and therefore it can be realised that some particular phenomena are continuously making or producing the gas again and again on the planet venus. We think that it is the causing of any biological life but it can be some other process that might be producing the phosphine gas.