The world is devastated and lost in translation, there are no words to indicate the physical, emotional, economical loss imposed by the COVID-19 pandemic. A quarter of billions of dollars has been given by the Gates Foundation in order to fight the pandemic. Both Bill Gates and his wife Melinda gates have contributed largely throughout the years in the charity through their foundation and philanthropic work. They are also contributing largely in order to create vaccines for the cure of COVID-19. On the other hand, he is facing a huge conspiracy theory that claims that he helped fuel the pandemic and that he is responsible for the worldwide pandemic.
His famous 2015, Ted talk was about a new pandemic and that humans are not ready for it. He warned about the various consequences that could be posed to human life when humans will face a certain situation. 250 million has been pledged by Bill gates in order to fight the virus and to create a vaccine. Now various online pandits have been able to successfully link Bill gates with the spread of COVID-19 all around the world. in the Ted talk he talked about the last pandemic and how the Ebola has killed thousands of people.
Where he also warned, that world might face a huge pandemic that could be much worse than that. Therefore, he also stated that if humans are not ready for it, then it will impose huge consequences and very devastating ones. Similarly, humans are going through the effect of COVID-19, as predicted, millions are dead, and devastated. People are afraid of each other, have to follow social distancing protocols. The virus is so deadly that it blocks the respiratory system, and poses huge threat to human life, causing death.
Alien life signs are now visible on Planet Venus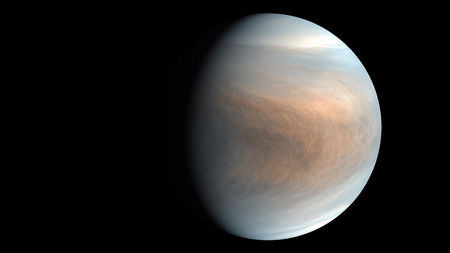 A rare toxic gas called as Phosphine has been found on the atmosphere of Venus, which does not indicate that humans will be thinking of travelling to venus for the near future but it is an indication of possible signs of Alien life. It has been indicated by scientists that this kind of quantity of phosphine is unexplainable and it can be an indication of alien life. Phosphine on earth can be found in pond slimes and penguin dungs, and it is the most foul-smelling gasses on earth. Therefore, scientists believe that it indicates a sign of life on Venus.
How this is an indication of life, this is the main question which further states the fact that the phosphorus cannot be produced without any non-biological way. Therefore, the alien microbes could be causing the production of this gas on venus's atmosphere. Because on the earth phosphine can only be made in a lab or through the help of the microorganisms. On Jupiter and Saturn also, there is a presence of phosphine but the idea storms on these planets are the main cause of the phosphine gas.
About 5 to 20 parts billion of phosphine gas is present on the venus's atmosphere. It is a lot more than we have the amount of phosphine present on earth. phosphine can be broken down by light and therefore it can be realised that some particular phenomena are continuously making or producing the gas again and again on the planet venus. We think that it is the causing of any biological life but it can be some other process that might be producing the phosphine gas.