Bura wakt hay sab ko pta hay, lekin is buray wakt main ek aur buri khabar k is manhoos virus say chuktkara hasil krnay main 2 saal tak lag sktay hain. Spanish flu k model ko use krtay hua btaya gya hain k covid-19 ko 18 say 24 months lagain gay, lekin 2 aur model say 2 aur scenarios nikalay gai hain. ye bhi kaha gya hay k pandemic jab tk khatam nai hoga jab 60 say 70 percent population is say immune na hojai, matlab us pr asar andaz na ho. Aur model main ye bhi kaha gya hay k sal winter main ek second wave ai gi jo bht khatarnak hosakti hay aur logo ka bht jani aur maali nuksan hoga. yani 2022 tk pandemic rehnay k chances hain, aur ye virus jab tk khatam nai hoga jab tak ye 70 percent logo ko infect na krdy, ye bat Michael Osterholm nay jo k director of CIDRAP hain CNN say bat krtay huay btai.
spanish flu k model k use krtay huay ye information nikali gai hay, jab 500 million loug flu ki wjhsay infect huay thay, jab b log asymptomatic behaviour show krtay thay, yani unko ehsas nai hota tha k wo virus ka shikar hain aur unko koi symptoms nazar nahi atay thay. Aj b yhi sab hua hay, covid-19 isi liay phela china main kiun loug aysmptomatic thay, asar nazar nai arai thy aur log virus ko aam flu wghera smjh k phela rhy thy.
In 3 scenarios main, sab say pehlay model ka naam peaks and valleys hay, time period sab ka aik hay jan, 2020 say lekar jan, 2022 tak. Scientists nay ye b kaha hay, k koi b esi parfect prediction nahi k iska end kia hoga, abhi kuch bhi kaha nai jaskta. Summer main repetitive cases aur virus k asar dubara namudar hoskty hain, ye scenario one hay. Scenario 2 main larger infections aur cases is winter main aingay, aur scenario 3 main, dunya ek slow burn experieince krygi, ye b kaha gya hay k agar vaccine ajati hay time par tou ye sab scenario change hoskty hain, wrna ye lockdown wala silsila jari reh sakta hay. Baray afsos say kehna par rha hay k dunya k sab loug mushkil main hain, lekin Topibaaz ko pta hay k insan ki taqat uska dimagh hay, aur insan say hamesha mushkil ka samna kr k uska sahi hal nikala hay, is wakt b Topibaaz insaan say kuch aisa hi expect krha hay.
Alien life signs are now visible on Planet Venus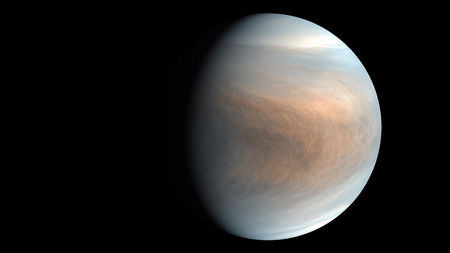 A rare toxic gas called as Phosphine has been found on the atmosphere of Venus, which does not indicate that humans will be thinking of travelling to venus for the near future but it is an indication of possible signs of Alien life. It has been indicated by scientists that this kind of quantity of phosphine is unexplainable and it can be an indication of alien life. Phosphine on earth can be found in pond slimes and penguin dungs, and it is the most foul-smelling gasses on earth. Therefore, scientists believe that it indicates a sign of life on Venus.
How this is an indication of life, this is the main question which further states the fact that the phosphorus cannot be produced without any non-biological way. Therefore, the alien microbes could be causing the production of this gas on venus's atmosphere. Because on the earth phosphine can only be made in a lab or through the help of the microorganisms. On Jupiter and Saturn also, there is a presence of phosphine but the idea storms on these planets are the main cause of the phosphine gas.
About 5 to 20 parts billion of phosphine gas is present on the venus's atmosphere. It is a lot more than we have the amount of phosphine present on earth. phosphine can be broken down by light and therefore it can be realised that some particular phenomena are continuously making or producing the gas again and again on the planet venus. We think that it is the causing of any biological life but it can be some other process that might be producing the phosphine gas.