Remdesivir ek anti-Ebola drug hai aur is sey ebola ko control krne main bohot ziada madad mili hai. Ek research based pharma company, Gilead is per 2009 se kaam kr rhi hai jab Ebola pehli dafa aya. Ho sakta hai k kuch dino ya hafto mein scientist is drug ko COVID19 ke liye istemaal krna start kr den ya phir iski madad se koi new drug banane me kamiyaab hojae. President Trump ne bhi is bare me btaya hai k Remdesivir ko corona se mutasir patients ki treatment k liye istemaal kiya ja sakta hai, aur itne bare president ki baat yunhi nahi hot, yakinan is per kaam jari hai aur hosakta hai k kuch dino me isy officially announce kr diya jae. Kuch laboratories me isy coronavirus k patients per test bhi kiya jaa chuka hai.
Kaletra – jo k ek HIV drug hai, isy bhi coronavirus k ilaaj k liye consider kiya jaa raha hai aur ab tak kafi logo mein isye practically test bhi kiya ja chuka hai. Is drug per kafi research hochuki hai aur kafi human trials bhi kiye ja chuke hain lekin ab tak is se kch khaas faida nazar nahi aya. Ek research k mutabik is k zariye covid19 se effected logo me bhi khaas fark nazar nahi aya, per isay ab bhi ek nominal care treatement k tor per use kiya ja raha hai.
Source: Trial of Lopinavir–Ritonavir
Chloroquine – 1949 me banai gai, ye ek anti-malaria drug hai aur isy bhi COVID19 k ilaaj k liye consider kiya jaa raha hai. Donald Trump ne is drug k bare main bhi btaya k isey coronavirus se bachne k liye istemaal kia jaa skta hai. Chloroquine ek purani dawa hai, ise WW-II me bhi use kia gaya tha, matlab ye ek esi drug hai jo well-known hai aur kafi ziada use kiya gaya hai, agr is sey coronavirus k ilaaj mumkin hua to bohot jald isy market krdia jae ga kiu k iski safety testing pehly se ho chuki hai. Kuch researches k mutabik Choloroquine ne coronavirus ki treatement me bohot positive results diye hain, China aur Belgium ne to iske istemaal k proper guidelines bhi announce krdiye hai aur isy coronavirus ki treatment k liye istemaal bhi kia ja raha hai.
Monoclonal Antibodies ek protein ki type hai jo ke COVID-19 se larne me beneficial hosakti hai. In fact, ye COVID-19 ko kill nahi krti, ye human bodies ko kisi bhi kism k viral infection se lrne k liye help out krti hai, jese k immune system ko strong krna etc. Yehi wja ha ik Monoclonal Antibody zada tar un logo ko di jati hai jo corona patient k karib rehte hain, medial doctors, medical staff aur family members. Coronavirus k start se hi Vir Biotechnology company ne is per working shuru kr di thi kiu, but ab tak ye initial stages me hai, aur koi official announcement isky usage k liye nahi ki gaie. Lekin high chances hain k in 4 drugs se hi coronva ki vaccine aur official treatment measures btays jaen.
Alien life signs are now visible on Planet Venus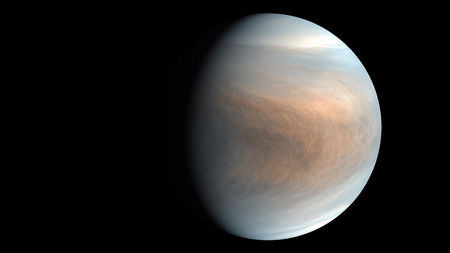 A rare toxic gas called as Phosphine has been found on the atmosphere of Venus, which does not indicate that humans will be thinking of travelling to venus for the near future but it is an indication of possible signs of Alien life. It has been indicated by scientists that this kind of quantity of phosphine is unexplainable and it can be an indication of alien life. Phosphine on earth can be found in pond slimes and penguin dungs, and it is the most foul-smelling gasses on earth. Therefore, scientists believe that it indicates a sign of life on Venus.
How this is an indication of life, this is the main question which further states the fact that the phosphorus cannot be produced without any non-biological way. Therefore, the alien microbes could be causing the production of this gas on venus's atmosphere. Because on the earth phosphine can only be made in a lab or through the help of the microorganisms. On Jupiter and Saturn also, there is a presence of phosphine but the idea storms on these planets are the main cause of the phosphine gas.
About 5 to 20 parts billion of phosphine gas is present on the venus's atmosphere. It is a lot more than we have the amount of phosphine present on earth. phosphine can be broken down by light and therefore it can be realised that some particular phenomena are continuously making or producing the gas again and again on the planet venus. We think that it is the causing of any biological life but it can be some other process that might be producing the phosphine gas.