Topibaaz when he was little, has seen MQM ( political party in Karachi) goons taking people like flocks of sheep to the polling stations, and harassing them to vote for MQM. No matter what back in the days, people of karachi were scared infront of Altaf Hussain's MQM goons who played the mahajir card within Karachi to collect votes. Altaf hussain, who is a terrorist and is responsible for the bloodshed and killings in karachi is currently living in London. In 2014, Topibaaz remember, that he had a cd70 bike, and his polling station was at least 25 km away from his residence, time to cast the vote was around 8a.m, topi went there and casted his vote, thinking that this time a change would happen. In the meantime, his friends told him in the evening that they were casting multiple votes for MQM, when the time of casting the votes had been finished. All of the people within the polling booths were working for MQM, so there was no way MQM could loose in Karachi.
In 2018, although again MQM had most of the seats in Karachi, IMRAN KHAN has been elected as the president. So topi was satisfied to have IMRAN KHAN as president. But then, in a matter of days, a no-confidence motion is being presented within the assembly, and political parties like PMLN, PPPP, and MQM become one, side against IMRAN KHAN, and then the prime minister of this country loose the majority and suddenly he is being replaced with a person who is a convicted criminal in Pakistan, and his brother was the previous prime minister of Pakistan and his brother had been removed from the office because his name had appeared in Panama papers. People like Zardari, who is the husband of Late Benazir Bhutto (ex-prime minister) are also of the corrupts in Pakistan. Pakistani politics go no beyond Zardari and sharifs, who had been taking over their turns to become prime ministers and presidents of Pakistan.
Imran Khan had been warning his people, that these people are meeting each other, and are also having meetings with American officials since normally American officials meet elected government officials and not the opposition parties since they know that elected parties are the ones chosen by the people and have been handling the affairs of the country. But this time American officials had recorded meetings with opposition who were not in power and then in just a matter of days, people started leaving IMRAN KHAN's party and then started becoming a part of the opposition since they knew that now they have enough people to remove the current prime minister from his seat.
Let's talk about Pakistan's relations with the United States, since Biden came into office, he has not talked to Imran khan, but only some officials have talked with Imran khan on telephone calls, the last time Imran khan went to the united states, he had a meeting with the ex-president Donald trump. Pakistan had been asked to give their air bases to the united states again, but Imran khan declined as the U.S exited Afghanistan, their argument was that they had to still look after the security prospects in the region. So, IMRAN KHAN's perspective was straight forward we will never take part in anyone's war. According to newamerica.org, U.S conducted 414 drone attacks.
https://www.newamerica.org/international-security/reports/americas-counterterrorism-wars/the-drone-war-in-pakistan/
Total deaths in these drone attacks were 23663702, while civillian deaths had been accounted as 245,303. Not once the U.S has acknowledged in front of the media that how Pakistan helped the united states to fight against the terrorist, such as terrorists who then started operating within Pakistan from Afghanistan, and then operations like Zarb-e-azb has been conducted by Pakistan Army in order to ensure that no suicide bombings would be conducted within Pakistan. Pakistan caught an indian spy Kulbhushan Yadav who was conducting attacks within Karachi and other parts of pakistan, and was under the alias of a Muslim man who came from Iran. So, Pakistan was fighting all sorts of wars, afghan Taliban, who started coming into Pakistan to conduct suicide attacks, India creating baloch liberation army to attack different provinces within Pakistan and Pak army forces. And then tehreek-e-Taliban pakistan was conducting attacks at the Pakistan army since their motto was that pakistan is siding the American army, and giving its bases to conduct drone attacks, so pakistan was under attack from all the sides.
And then corrupt politicians eating Pakistan from inside, and after the tenure, these politicians fly away from Pakistan. Shahbaz sharif, Nawaz sharif and marium nawaz has also been aided from different courts of pakistan, as most of the cases against this family has been removed and burnt. to dust, topi has gathered the facts and these are listed below;
Nov 1994, FIA has submitted a challan against hudaibia paper mills, and hudaibia engineering, Nawaz Sharif has been accused of irregular finances and manipulation. In 1997, when he became prime minister, then he filed a petition against both of these cases.
After that Lahore high court accepted his appeal and got rid of these accusations. In the helicopter case, the court has given a verdict against Nawaz Shareef for which he was sentenced to 14 years of prison, and 2 crore rupee fine.
In Dec 2000, gen par mush sent him to Saudi after a deal. After on 26 june 2009, lahore high court stated that he should be free of all the charges. In 2000 march, hudaibia paper mills case references has been filed, and in oct 2009 again lahore high court has again stopped nab to further investigating Nawaz Sharif in this case.
In 2014, Lahore high court stated that nab doesn't have proper evidence and all the references against Nawaz Sharif had been removed. In the Raiwand state case, references have been filed for illegal construction for 104 canal area within jati umra, and the use of state resources.
Again when Nawaz Shareef became prime minister, both of the references has been removed. Again lahore high court has removed both of these cases against nawaz shairf.
Nawaz sharif on 6 July 2018, for the even field apartment case had been sentenced for 10 years in prison and marium nawaz had been sentenced to 7 years in prison. Again these had been challenged in isb high court.
On 19 sep 2018, Islamabad high court again averted the prison sentence for both of them. 24 sep 2018, again nawaz sharif has been sentenced to 7 years in prison by ethical court, in al azizia reference.
On 16 Nov 2019, again lahore highcourt on the basis of medical grounds have stated that Nawaz sharif should be allowed to go out of the country. On 8th August 2019, Mariam Nawaz has been arrested for the Ramzan sugar mill case.
5 Nov 2019, because she is a woman, had been relieved of her jail sentence, and her passport will be confiscated. On 5 Oct 2018, Shahbaz Sharif has been arrested by nab Lahore for ashiana housing and Ramzan sugar mills.
On 14feb 2019, again lahore high court, Shahbaz sharifs application against his arrest has been submitted. On 28 sep 2020, nab has arrested shahbaz shairf for money laundering and for his assets beyond his worth.
On 23 april, Lahore highcourt, again let him go. On 14 Jan 2022, the banking crime court stopped FIA for seven days to investigate and continue the proceedings, and the same case has not been investigated until today. Now he is the prime minister
Imran Khan's vision is to make Pakistan a great nation, that in future would attract people from all around the world to activities like research, tourism and Pakistan could become a case study if its able to alleviate the status of its lower class so that the un-equality percentage would not create a lot of difference between rich and poor, not following that has been used by China, but by providing incentives, incentives for information technology innovation, incentives for investments from abroad. This does not mean that Pakistan has to take sides with any nation but should have cordial relationships with every nation, since most of us Pakistanis are being impacted by U.S infrastructure, if you roam around Karachi, you will see streets named after the streets in United States, for instance, Sunset boulevard, you will see youth using the platforms like Facebook, youtube, and instagram. So, we would be hypocrites if we were to say that we hate americans and we are not dependent on their I.T infrastructure. But, the problem lies in the U.S's foreign policy for pakistan, which is totally tilted towards india and there is no balance that could be seen in that relationship. Although, Pakistan was fighting the afghan war alongside U.S and not india, even the sales of different defence weapons are not being fruitful because U.S congress does not allow it.
Hence, United States keeps an attitude of a bully, which it also keeps with other nations, such nations which United States percieves as Weak. In the current case, U.S through donald Lu who is serving as the Assistant Secretary of State for South and Central Asian Affairs since 2021 as U.S diplomat sent a communique, such communications are mostly kept secret from the public, since the form of communication used, could reveal a lot of secrets, that how Pakistani intelligence agencies conduct their communication, therefore such letter was kept secret and was provided to imran khan. This letter was a direct threat to Imran khans government, since Imran khan visited russia, as U.S wanted Imran khan to cancel his visit to Russia, as it was invading ukraine. Imran khan had to visit russia, as it was a normal routine visit and it was conducted after collaboration all of the pakistani authorities, but in this communique it was stated that Imran khan unilaterally decided to visit russia. The threat letter, after Imran khan has been replaced by the new government (not been elected by public) has been sent to the chief justice for the investigation and the current government will try and denounce the severity of this letter through creating narratives in their own favours.
Curent situation indicates that U.S also likes to deal with corrupt parties within pakistan, since they would follow the orders given by united states without thinking about the interests of Pakistan. Therefore, such governments play according to the U.S foreign policy, and in simple words work like puppets not to work for their own interests but for the interests of the U.S monopoly. If you would ask Topibaaz, what does he want, then he would suggest that dont get bullied by anyone, and try and work for your own benefits, in reality, we cannot also neglect the support that united states provide to pakistan also, as it continues to provide vaccines to Pakistan, for Covax initiative. Therefore, one can never neglect the support of United States, not only this independent agencies within United states provide funds to Pakistan to coserve the historical sites within the country.
Topibaaz himself grewup watching american propaganda movies, oops, hollywood movies, topibaaz itself learnt most of his english through american shows. Although, there could have been a soveit propaganda machine like hollywood and topibaaz in an alternate universe could be speaking fluent russian, but due to cold war propaganda, Americans took over Pakistan, and Russians took over india. Therefore, not neglecting that America is a hub of research and it has various independent bodies, which allows you to even present your narratives against American policies within america. Then again, American foreign policies are totally against the sovereignty of some countries, just focusing America's benefit and neglecting the benefits of other countries. Considering the retalliation from american most of the weaker governments (financially and politically weak) are unable to take stands against american and in favour of their own benefits. Hence, such countries continues to suffer, as their agendas are never benefitting their own nations, and they posses no long term plans to benefit their own nation. Hence, then grow more regional tensions and conflicts within these countries and these countries are never able to stand on their own feet and rely on other funding options like IMF that pakistan is also a part of.
Topibaaz's verdict: No nation can be intervened through foreign polticial influences if its own institutions or its own politics are strong enough to never take sides and could never be influenced through financial means or through any demeaning agendas. Hence, our own political corrupt elite stands as the true traitors of this country. But the day of reckoning is not far away, this country one way or the other will emerge as a great superpower in the whole world, and will provide for the prosperity of the other nations.
Pakistan Zindabad! Pakistan Paindabad! Long Live Pakistan
Ishaq Dar; An Exemplary fool!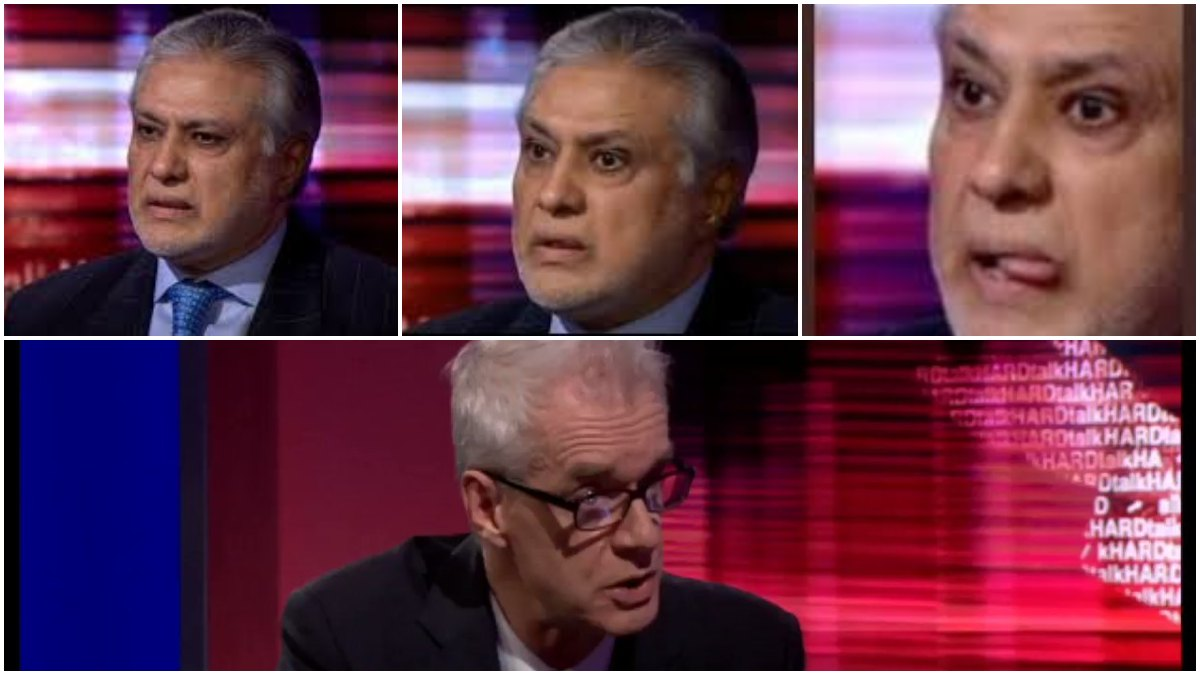 Stephen Sackur, age 56 is widely known for his controversial BBC Hardtalks with guests from a wide variety of professions. Interviewed the ex-finance minister of Pakistan, Ishaq dar. This was the kind of an interview, where ishaq dar was supposed to cement his position about his perspective of the current government of Pakistan. But the interview went completely other way, since ishaq dar from the start of the interview, was called as an escapee from Pakistan by the interviewer, by Stephen sacker himself.
When asked that you are alleged to have more than 600 million dollars, these are assets more than your acquired resources, and that how many properties that you own in Pakistan?
Ishaq dar replied with hesitation at first, that its all declared in my tax returns, Stephen Sackur again asked how many properties did you own in Pakistan… Ishaq dar replied like a seasoned liar, "One property"!
"One property", even a corrupt cleric owns more than one property in Pakistan, and Ishaq dar bluntly replied that i only own one property in Pakistan.
Stephen Sackur asked again, Not even in Dubai, Ishaq dar replied, " My sons have just one villa and is owned by them since they are in business for last 17 years".
Stephen Sackur said again, that when I asked you, "how many properties you have in total", then you replied, "Only one"..so it's not strictly true. Now, change of stance by Seasoned fool, "Agains insisting that it's true, and that my children are adults, they can make as many properties as they want". So Stephen Sackur asked again, that you know that when NAB (National Accountability Bureau) was looking at your assets, it meant that they were looking at both you and your family's assets.
Stephen Sackur ask again, if all of this is very clear cut and if its true that you only own one property. And everything is just very crystal clear, then why do you not go back to Pakistan and make this case in the court of Law ( Where you were an ex-finance minister, where you looted all the money, made fool of the old and sick, took votes from innocent people who think you can change their lives)
Ishaq dar replies, " Well, the court of law, my lawyers were there ( thinking in the back of his mind, that I don't give a fuck about courts in Pakistan)… I am here for the medical treatment and I don't wanna go back since my ass already escaped to London.
Again Stephen Sackur asks, "you been here for 3 fuckin years, are you trying to make a fool out of me, shit face" Because i have seen fuck boys like you giving me a prep talk, but i know a fool when i see one, and you are the one".
Anyways lets move on seriously!
Stephen Sackur: Are you still really suffering from the disease?
Ishaq dar: Yes, Yes, I am ( i sometimes forget what i am suffering from, but yes i am suffering from schizophrenia too)
Stephen Sackur: Cant you possibly go back to Pakistan, we are already hosting a lot of fugitives like you here?
Ishaq dar: Well.. (hesitatingly) lets see…Now starts bashing Pakistan .. Where are the human rights.. and the current government is running a maligning campaign against former Prime minister, Nawaz Sharif
Hold on ! fuck face hold on …
Stephen Sackur: The truth is Nawaz Sharif is a convicted criminal..
Ishaq dar: its not proved ..its not proved! even in the two judgements gave by the court of Pakistan ( the court that i don't give a shit about, since i am escaping from it and sitting on my fat ass in London enjoying this beautiful life )
Stephen Sackur: Nawaz sharif (the leader of your party) was convicted by the court for ten years on the charges of corruption as his name appeared in the Panama Papers, ( then his sentence was reduced to 8 years) .. he was allowed to go to London on medical reasons like you were allowed, and then again you two fuck boys didn't went back to face the criminal prosecution and now you are sitting in front of me and telling me that you are not escaping justice ..
First of all Ishaq dar tell me, who the fuck do you think i am…
Stephen Sackur: You are trying to run a campaign against current Prime minister of Pakistan (Imran Khan), what credibility do you have?
ishaq dar: It was a stolen and rigged election ..
Stephen Sackur: But according to the EU monitoring report, the election results were satisfied and this means not rigged, so why the fuck would i listen to you …
ishaq dar: But it was rigged election
Stephen Sackur: how?
Ishaq dar: That's what they fucking told me .. what am I supposed to say on BBC ..
Stephen Sackur: So, the truth is that Imran khan has the democratic mandate and you are just a fuck boy! Because the EU chief of the commission said that the results of the elections are credible.
When Stephen Sackur asked that why did you put allegations on the army chief of your own country that he, himself influenced the election, Ishaq dar replied, " The bug sits at the top". "You don't know that Pakistan is a deep state", the term used by corrupt politicians when they are not in the government to indicate that army helped some party to win the elections.
But then again, Liar liar pants on fire ( you suck Ishaq dar, because you were in the government few years ago and sure you didn't say shit at that time.
Then after arguing on the same, notion he said, i am not pointing at the whole army, i am just pointing at some individuals. Ishaq dar meant to say, that current army journal is bad and he helped the current prime minister to get elected. But he is the same army journal who was appointed by Ishaq dar's government, so the fact that he helped the new Prime minster to get elected can never be true.
Again a tough question coming his way, Stephen Sackur asked that your leader, Nawaz Sharif made the govenrment with the military dictator General Zia, but suddenly he has decided that the Army is against him, because they are not working with him any more and he is not in the power…
Ishaq Dar: its an evolution process, this world came into being after the big bang!
Stephen Sackur: What the fuck is wrong with you Dar!
Ishaq Dar: I certainly disagree with you!
Stephen Sackur: I asked you a fucking question, you dick head!
Ishaq Dar: I…. I …. disbelief… i certainly don't … i disagree with you!
Stephen Sackur: Fuck u!
Ishaq Dar: What!
Anyways … lets
Ishaq Dar: Imran khan is bad guy, he was known as Taliban khan, he accused Pakistani intelligence services …
Stephen Sackur: It was regrettable that Ex-Prime-minister took the name of the current army chief in Pakistan, said by Bilawal Bhutto, and even the daughter of Nawaz sharif said that i am not anti-military.
Ishaq dar: Hey, can you ask me any easy fucking question, because these questions are fucking hard..and i don't know shit about them..
Stephen Sackur: Dummy! that's why its called Hard talk!
Stephen Sackur: Why are you creating instability in Pakistan when there is Pandemic in the whole wide world? What is the fucking, reason, are you fucking insane?
Ishaq dar: You have to be a neutral umpire here …
Stephen Sackur: We are not playing fucking cricket here, dick head…
Stephen Sackur: You can choose to go home, but what you are doing is ..that you are sitting in London, and trying to destabalise the situation in Pakistan… who the fuck does that to their own country … your people elected Imran Khan… so stay the fuck away from them.. because you ain't good to respond me now, how can you run the finances of a big country like Pakistan… Sure in hell, you cant run a small firm, you cheap stake..
Stephen Sackur: And i think Imran khan stand in a very tough stand against India and Modi.. and he cen never be a fascist…
Ishaq dar: ( smiling)
Stephen Sackur: What the fuck are you smiling about, i am serious!
Ishaq dar: Ok (serious)
Stephen Sackur: So, just tell me what kind of his policies personifies fascism, when he has opened the pilgrimage locations in Pakistan and invested upon them so that the Sikhs can come from India to Pakistan and they can visit their own religious sites … Tell me ?
Ishaq dar: Well, let me google the meaning of Fascism .. i think i said something else..
Ishaq dar: You haven't studied.. and you haven't had time .. to see what kind of fascism he is doing…
Stephen Sackur: Have checked from google, you wanted to say facism ..
Ishaq dar: Yes, it was Fascism!
Stephen Sackur: Well! i have to end it here! you really fucked my head with your crazy answers. I don't know how and why people like you were ever appointed as the Finance ministers in Pakistan.
Ishaq dar: What… I disbelief… I dont agree with you ..
Stephen Sackur: Get the fuck outta here!