Pakistan is on 11th spot in E-sports ranking, just because a guy named Sumail Hassan who is a 20 yr old has played more than 60 tournaments in the world. He is accounted to an earning of $3,591,225.34. On the other hand, PUBG game has been banned on the basis of spreading violence. Let me remind you who get us a playing pistol in our childhood, our family members. They want us to play with toy guns, why these toys are even made, arent they spreading the violence. We all grew up playing a virtual cop, IGI, counter strike and various other first-person shooting games. These games are in our DNA, obviously its fun to play games. There are tons and tons of guys in Pakistan who are earning money by playing PUBG, and some are even supporting their families.
Sumail is a prime example as he used to play DOTA 2, in internet cafes in Pakistan. He did not have much money to even afford a single personal computer. Arsalan Siddique is another prime example of the verge of E-sports gaming in Pakistan. This guy had gaming zones at the front of his home, his parents told him, that he was little he was going and sleeping in those gaming zones. Arsalan is the best Tekken game player in the world, he is being sponsored by the Red bull brand. Therefore, if we want these sponsors to stop investing in the youth of our country then we can ban every game that our children play.
Life is also a game, our enemies use weapons and we defend against them. But banning games and that young guy are not allowed to take part in e-sports activities is just plain stupid. Some of the guys are earning money by streaming games online and they don't want this opportunity to go away from their hands as they want to do good for their family. Since now their families are counting on them to make it to the international level. If we want more guys like arsalan, sumail to lift our flag in this world, then just stop this stupidity and lift the ban from a bloody game.
How can we revive the doomed city of Karachi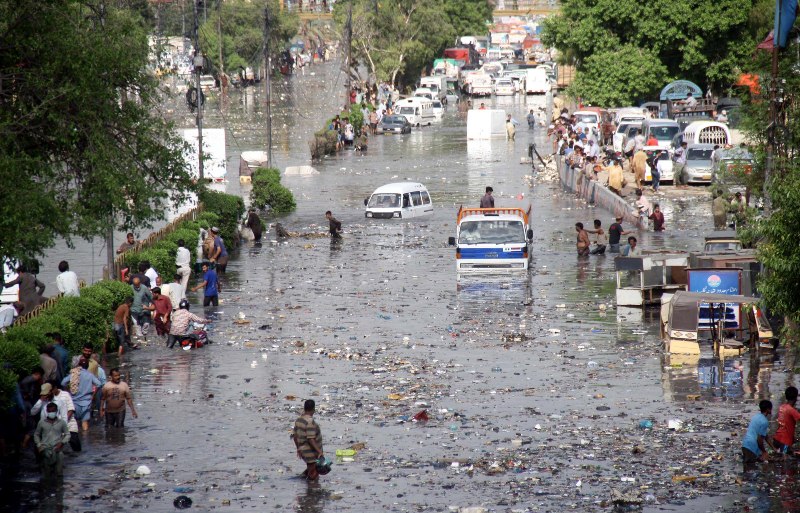 The City of Karachi is certainly doomed, with flooded streets and no electricity, people are barely making the two ends meet. There are multiple reasons why Karachi is facing a disastrous situation because the city of Karachi should have been like a European city but currently its infrastructure, it cannot even compete with underdeveloped African cities. Every city is built on a mega plan, with roads and infrastructure of drainage is being laid out. The foundations of Karachi have become old and by this time, Karachi would have gone tons and tons of changes to become a self-sustaining metropolis. But, the tale about Karachi's past is sad and not worth telling. Therefore, we don't want to discuss the past, what has been done is done and now we have to move forward. What can we do make this city better, because there are three problems that are being faced by this city which are persistent and has made the life of 16,094,000 people a living hell. The problem of drainage, the problem of electricity and the problem of waste management. This article intends to provide a solution rather than criticising any authorities because criticism cannot make a difference, not now and not in future.
How to solve the Electricity problem
Electricity generation with solar panels
Karachi mostly witnesses hot weather, except a rainy monsoon season that does not persist for long. We can solve our electricity problem by taking advantage of the hot summers and the hot summers even persist until late October and also until the earlier days of November. A big field having tons and tons of solar panels can be created, that investment would be one time and every home can be given a particular quota of electricity that can be utilised every month.
Electricity generation with Waste
We all know that tons of tons of waste have been wasted on the streets of Karachi since we don't have a proper waste collection system. An easy way to utilise that waste is to convert the excess waste into the energy. Again it will not be a big ask, and I don't think what kind of 18th amendment is stopping a prime minister to invest in a megacity like Karachi. Below stated figure is a simple process to convert the waste into the useable energy. But the problem is that how do we collect waste, if people keep throwing the waste on their streets, since there is no one who will come to collect the waste from their home. Hence, it will be disposed anywhere outside their home. Now, lets talk about how to solve the waste management problem.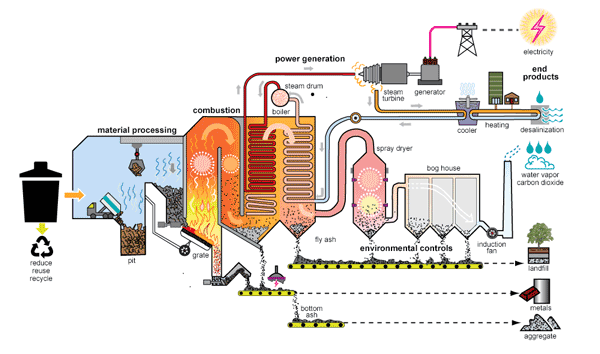 How to solve the problem of waste management
Design an incentive waste collection system
Waste collection can be easily done, by paying a simple amount to people, obviously, a workforce will be hired to collect the waste. The people of Karachi will be provided two bags and they have to segregate their waste with glass in one shopper and other waste in one shopper. So that the recyclable waste can be easily sent to waste to energy plant and hence its segregation from the waste that cannot be used to make electricity will not be a problem. Now lets talk about how to solve the problem of excess rainwater, and how the rainwater can be utilised effectively
How to solve the problem of excess rainwater
Design an underground sewage system
An underground sewage system will store the water and transfer it to certain parks and bigger fields that are specially created for a recreational basis. Chinese have created such solutions in which excess rainwater is being transferred to large recreational fields and hence they don't have to water the plants with another source of water. Not only this rainwater can be treated and used to plant vegetables in the same recreational spaces. All of the above-provided solutions are not out of the world and might not demand huge investments. All we need is to invest in the city of Karachi and to ensure its proper development. Else our next generation would be suffering from the same problems that we are suffering from.
How to shape a sustainable city
A sustainable city includes a proper sewage system, renewable energy plants, good recreational spaces for people to hang out. Sustainable transportation and good infrastructure that is built to travel to and fro from a location. None of these can be found in a doomed city like Karachi. But in future, we as citizens of Karachi demand these things as we deserve better and better living standards. We cannot wait more, the waiting time has already passed and our lives have already infected!